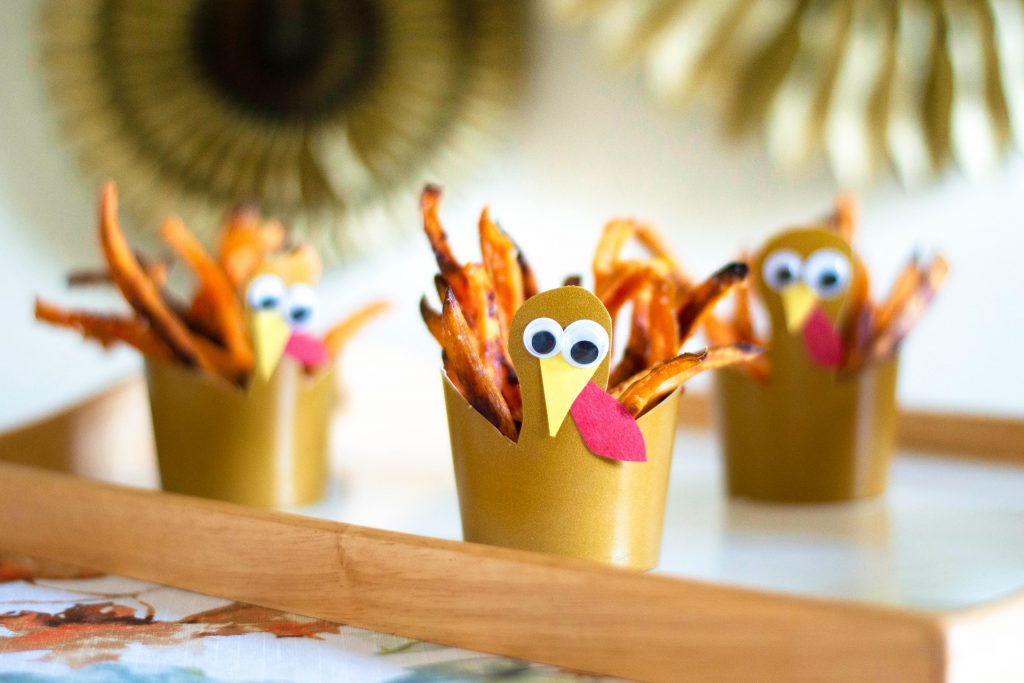 When you want crispy Thanksgiving sides, these turkey tail feather fries are the champions of crunch! Fun to decorate, delicious to enjoy, and full of nutrition and irresistible flavor. Serve up something they'll be thankful for this year.
Turkey Tail Feather Fries
Serves 4-6
Ingredients:
2 large sweet potatoes
1 tablespoon cornstarch
2 tablespoons olive oil
Sea salt to taste
Turkey Cups
Supplies:
Paper cups
Scissors
Googly eyes
Construction paper (brown, yellow, red)
Glue stick
Garnish options:
Cheesy: Parmesan and melted butter
Sweet: Cinnamon sugar dusting with a little melted butter
Spicy: Cayenne, hot smoked paprika and chili powder
Savory: Minced garlic, zested lemon peel, minced parsley, and a little Parmesan
Make It:
Preheat the oven to 425F. Line 2 baking sheets with parchment paper and set to the side.
Next, peel and cut your potatoes. You want to cut thin 1/4″ matchsticks so that the fries will stay crispy. If you cut larger pieces they just will never achieve crispiness.
Once all your potatoes are sliced toss them with cornstarch. Be sure to really move it around to coat each fry on all sides. Next, toss with olive oil. Again you want to get in there with your hands and toss until fully coated.
Divide the fries between the two baking sheets. It is really important that you don't overcrowd. Give them space around to crisp up. Once laid out, season them with salt.
Bake for 15-20 minutes in the middle of the oven. Turn and bake for 15-20 minutes more until crispy on both sides.
As your fries are baking, its time to make your turkey cups. Get out your paper cups, scissors, googly eyes, construction paper, and glue sticks. Cut a turkey head and neck in the front of your cup (the side opposite the seam). Next, cut down the sides on the cup to make it kid-size. I do a swoop for the wings at the front and then basically cut the cup in half towards the back. Next, move to your construction paper. Cut a triangle out of the yellow paper for a beak and a red teardrop for the wattle. Glue on the wattle then the beak on top. Finish with the google eyes. Repeat with remaining cups.
Once your fries are finished baking, you can season with your favorite garnish. Add some ketchup to the bottom of your turkey cups, splay out your fries in a fan shape to look like the turkey tail, and enjoy!
Note:
These work if you make them in advance! Just freeze in a single layer and rewarm in the oven.
A Thank-You:
Thanks to Party City for gifting the awesome tableware and decorations for our festivities. Their Gold Paper Cups were PERFECT for our turkey cups.