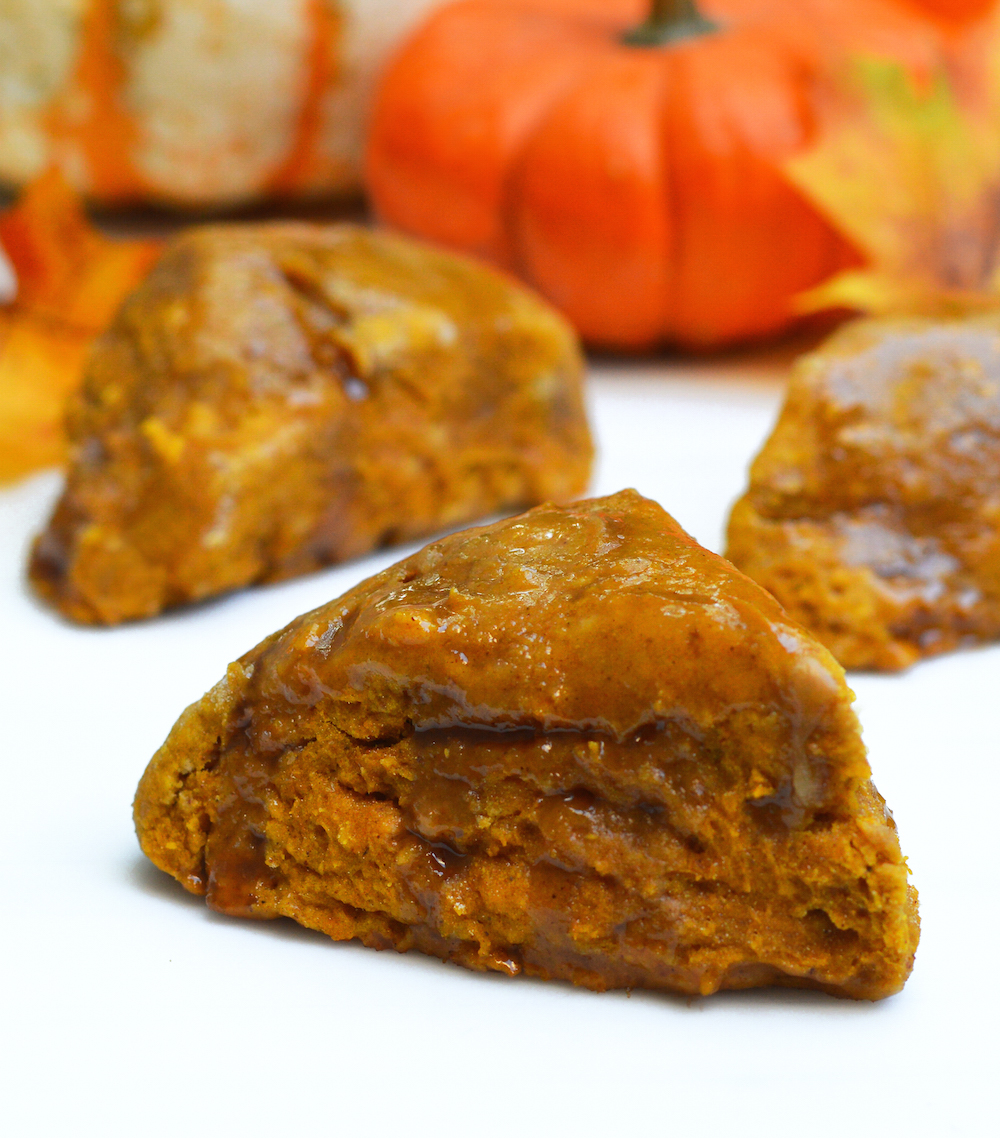 Pumpkin Maple Scones
Serves: 16 scones
Freezer Friendly
These scones will win you friends. Talk about the absolute perfect Fall treat, these are light, fluffy and coated with a delicious maple glaze to make them pretty much perfect. The best is they are not very hard to make which is what I always find important when baking. Go ahead wow yourself!
Ingredients:
3 ½ cups self rising flour
1/3 cup brown sugar
½ teaspoon salt
2 teaspoons ginger powder
2 teaspoons cinnamon
1 ¼ cup heavy cream
1 can 100% pumpkin
Glaze Ingredients:
4 tablespoons butter
½ cup brown sugar
¼ cup maple syrup
Make It:
Preheat the oven to 425°F. In a large bowl mix flour, sugar, salt, ginger and cinnamon until well mixed. Make a well in the center of the dry ingredients and then add in the heavy cream and pumpkin and fold in with a spatula until just mixed. You don't want to overwork the flour, so simply mix until you don't see any traces of flour on the bowl or in pockets in the batter.
Drop your batter onto a well floured surface and fold 4 times to lightly kneed. The batter is sticky so add as much flour as you need until you are able to work with it. I also liberally flour my hands. After you kneed the dough, divide it into 2 equal balls.
Form the first ball into a 1 ½ inch thick disc and then with a floured knife, cut the dough into 8 pie shaped pieces. Repeat with the second ball. With a spatula, transfer scone batter onto a parchment lined baking tray and bake in the center of the oven for about 12-15 minutes. In my oven 12 is the perfect amount of time to cook through and make my scones perfectly fluffy.
Allow scones to fully cool for 15 minutes.
Make the Maple Glaze:
In a small stockpot add all ingredients over medium-high heat and bring to a boil. Once boiling, keep stirring for 1 ½ minutes until the mixture has a caramel-like texture. Spoon the glaze over the scones and allow 5 minutes to set.
To Store:
Overnight simply, drape a clean dish cloth over scones once glaze has set. For longer than overnight, freeze in a plastic bag. Reheat for 20 minutes in an oven at 350°F to rewarm.