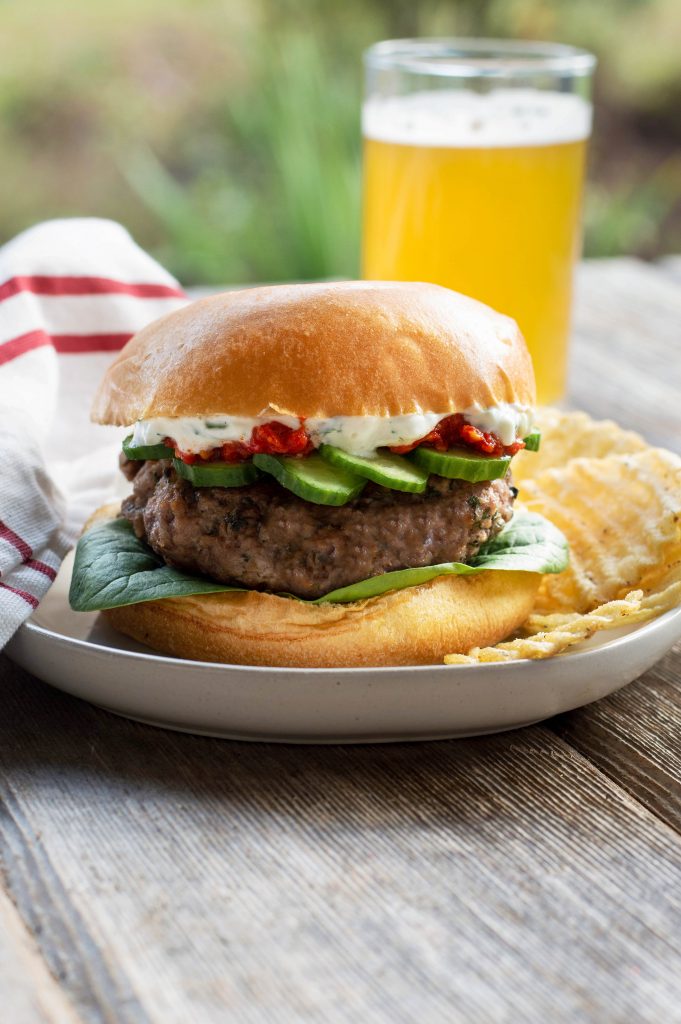 Forget everything you think you know about burgers. Then start with these and start your love affair afresh! This tzatziki is creamy, herby and absolutely PERFECT when added to the juicy lamb patties and buttery brioche rolls. Garnish with some fresh Persian cucumber slices for a satisfying crunch.
Feta Lamb Burgers with Tatziki
Serves 4
Ingredients:
1.5 lbs ground lamb
2 tablespoons fresh dill, minced
3 tablespoons crumbled feta
1 large egg
Sea salt and freshly cracked pepper
4 brioche buns
Sliced Persian cucumbers
Harissa for heat, optional
Tzatziki
Ingredients:
1 grated Persian cucumber (dry off with a paper towel to absorb extra moisture)
2 cups Greek yogurt
1 tablespoon lemon juice
2 teaspoons minced garlic
1 tablespoon chopped dill
Sea salt and freshly cracked pepper
Vegetables or pita bread for dipping
Make It:
In a medium bowl, combine the ground lamb with dill, feta, and egg and mix thoroughly. Divide the mixture into quarters and press into patties slightly larger than your buns. Season on the outside generously with salt and pepper.
Bring a large frying pan to high heat and saute your burgers for about 5-7 minutes per side. You want to achieve a nice dark color. You do not need to add any oil to the pan as the burgers are already nicely fatty.
Toast the brioche buns then assemble by adding a generous spread of tzatziki to both sides of the bun, then adding your burger patties, sliced cucumbers, and harissa (if you want the heat)