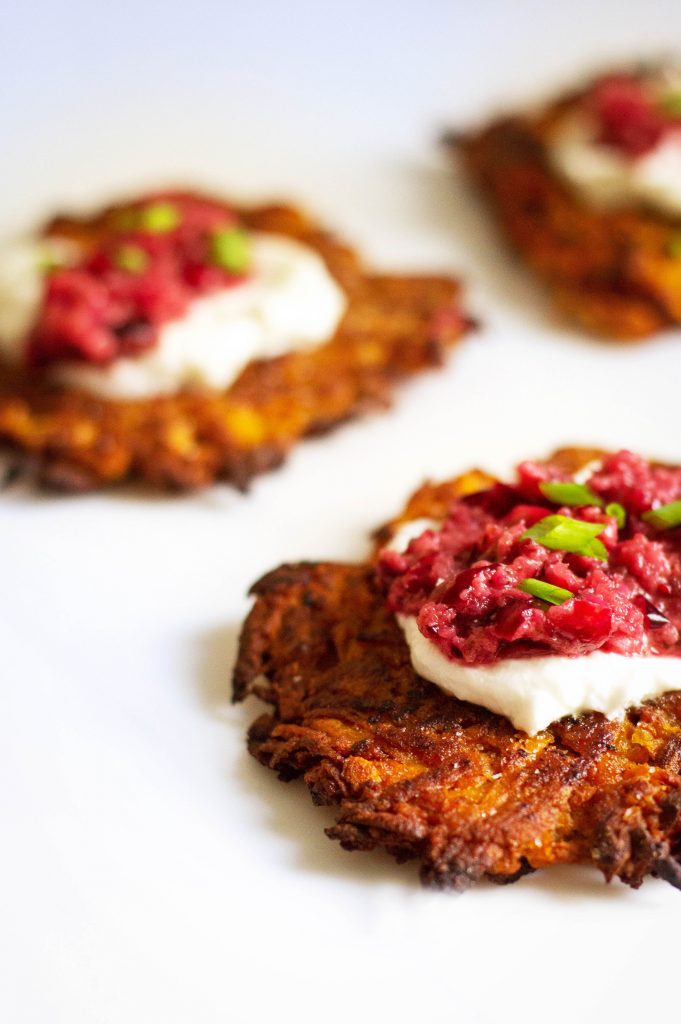 Tasty combo alert!! Crispy fried latkes, darn perfect cranberry salsa, and a little sour cream for good measure. Hard to photograph but absolutely yummy when eaten. Hope you enjoy!
Sweet Potato Latkes
Makes about 12
Ingredients:
3 cups shredded sweet potato
1 tablespoon cornstarch
3 eggs
3 tablespoons matzo meal, you can substitute bread crumbs
Sea salt
Safflower/avocado oil for frying
Sour cream for serving
Cranberry Salsa for serving
Make It:
Line a baking sheet with paper towels. Then, in a large bowl, mix sweet potato, cornstarch, eggs, and matzo meal. Stir to combine and season with salt.
Add a layer of oil to a large frying pan and bring it to high heat. Allow the oil to heat before adding the first latke. Go thin to win, you want a super flat latke to keep it crispy. Fry 2-3 minutes per side. It should be golden brown, if they start to get too dark, lower the heat.
Here's the delicate balance, you will need to continue to add oil, heat the new oil, and fry. Golden brown is the goal so even though you'll start at high heat, you'll be wavering between hot and medium as you cook. You've got this!
Transfer the finished latkes to your paper towel-lined baking sheet. Repeat until all latkes are cooked. Season the finished latkes once again with salt.
Serve warm with sour cream and cranberry salsa.