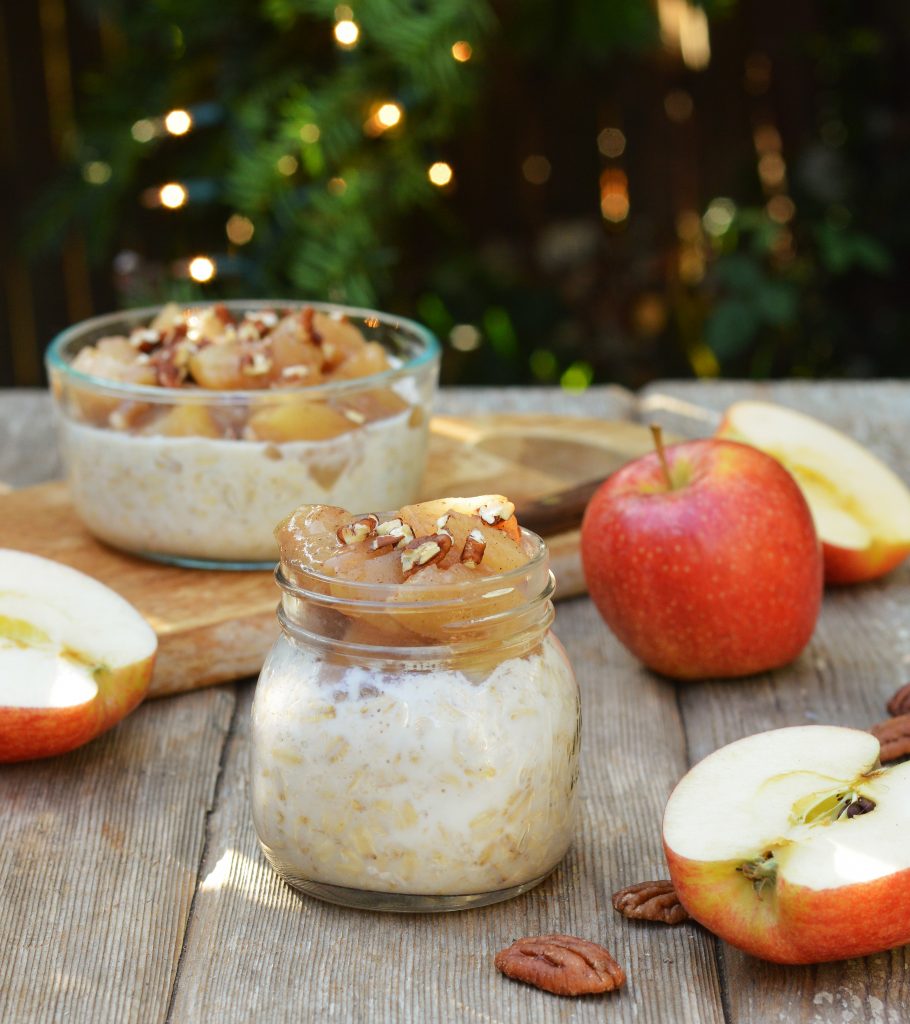 Make ahead breakfasts are basically one of my favorites. I'm just not a morning person, even after 2 kids. These Apple Pie Overnight Oats are just awesome for super delicious weekday breakfasts or for making in advance of a big occasion or holiday. I make all the holiday meals so on big meal days the last thing I want to be doing is whipping together another intricate meal for everyone. Big holiday meals call for one large meal and a lot of other grab and go options- especially with guests.
With winter holidays approaching fast, what better way to prepare than to have breakfast done in advance. That way you can sip your coffee and enjoy the morning with everyone else.
Apple Pie Overnight Oats
Apple Maple Compote
Ingredients:
2 teaspoons corn starch
4 medium apples, peeled, cored and roughly chopped (I used Gala)
½ cup water
1 tablespoon butter
2 tablespoons maple syrup
¼ teaspoon nutmeg
½ teaspoon cinnamon
¼ teaspoon salt
Overnight Oats
Makes 1 portion:
½ cup unsweetened almond milk
2 tablespoons yogurt
½ cup rolled oats
1 tablespoon maple syrup
Optional: chopped pecans for topping
Make the Apple Maple Compote:
In a small bowl, whisk corn starch with 1 tablespoon of water. Whisk until no completely smooth. Set aside.
Next, in a medium-size stockpot, add all remaining compote ingredients. Stir in the cornstarch mixture, cover and bring to a boil.
Boil covered for 5 minutes. After 5 minutes, remove lid and continue to boil until liquid has reduced to a syrup (about 10 minutes).
Transfer compote to a container for overnight storage and refrigerate (be sure to scoop up all the delicious syrup).
Make the Overnight Oats:
In individual glass containers (best for reheating), add in almond milk, yogurt, oats and maple syrup. Mix each container until oats are coated in liquid. Cover and refrigerate overnight.
Putting it All Together:
The next morning, top each container of oats with a generous serving of apple compote and a sprinkle of chopped pecans.
Warm before eating.