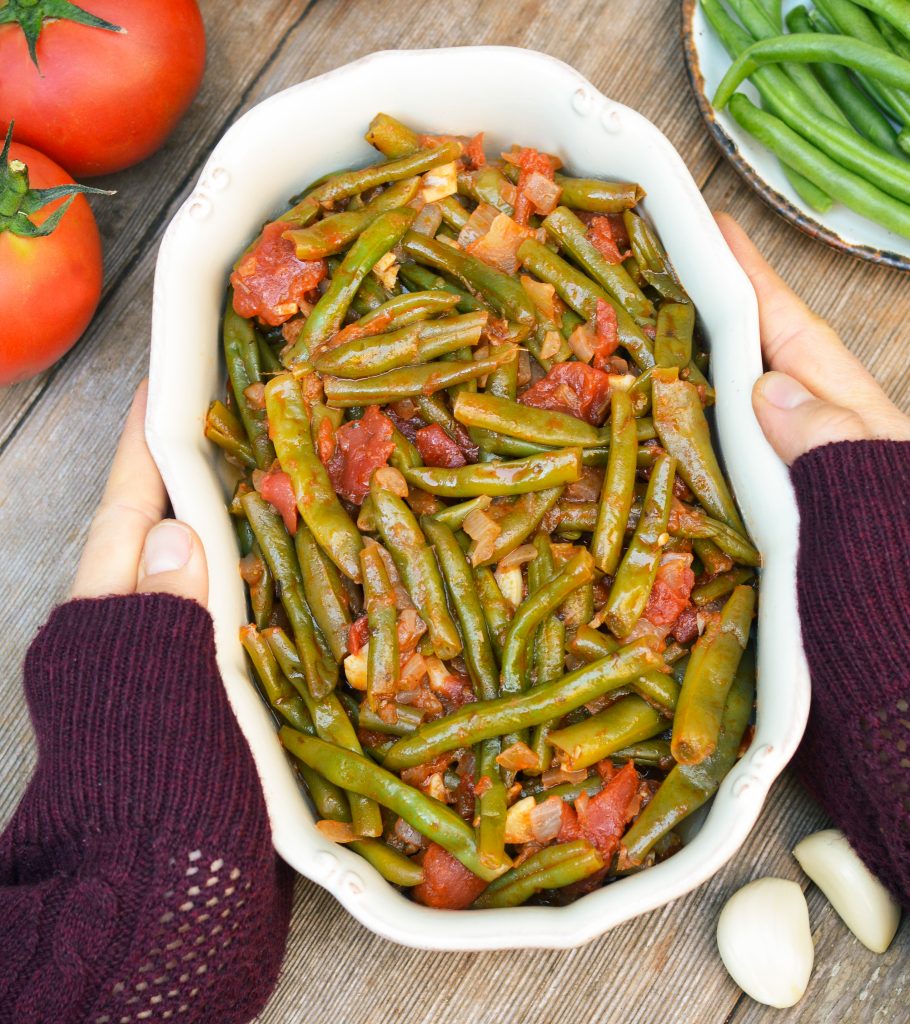 I have been on the hunt for this recipe for a long time. My favorite version was served to me by an amazing Israeli couple. It was my favorite dish from their entire dinner, far outshining the main course. I've been trying to recreate it ever since and coming close but never quite getting it . I've enjoyed countless Greek dinners with Fasolakia which is similar and have also heard this dish called Lebanese Green Beans and Fasoulia bi Zeit. The basic concept is that cooking the beans in with tomato sauce makes them incredibly tender and delicious.
My mother-in-law like the saint she is, was the one to finally pass on the recipe to me that most resembled my memory of these flavor-backed, tender and super divine beans. The recipe is so perfectly simple. I tweaked just a few things.
The best part about this recipe is that it takes a vegetable that a lot of kids don't necessarily enjoy and changes their flavor and texture to make them a lot more enticing. If you're looking for an alternate green bean recipe for this Thanksgiving, give this one a shot.
Braised Green Beans
Serves 4-6
Ingredients:
3 tablespoons extra virgin olive oil (it really adds to the taste, so opt for better quality)
1/2 Vidalia onion, diced
2 large cloves of garlic, sliced
Sea salt and freshly cracked pepper to taste
1 lb. green beans, stems removed and snapped or sliced in half horizontally
1/2 cup vegetable stock/white wine
1 (14.5 oz) can of stewed tomatoes (I prefer San Marzano if you can find)
Make It:
Add your olive oil to a medium-large stock pot (be sure it has a lid). Heat for 1 minute on high and then add in your onion and garlic and cook for 1-2 minutes until it sizzles and starts to turn translucent. Stir as you go to avoid scorching. Season with salt and pepper.
Next, add in remaining ingredients and bring to a boil. Boil uncovered for 10 minutes, stirring several times. You should be left with enough liquid to surround but not cover the vegetables after boiling. After 10 minutes, cover the pot and reduce the heat to low. Cook for 20-30 minutes until tender when tested. To test, I pick out a piece and let it cool then take a bite. Season once more if needed before serving.