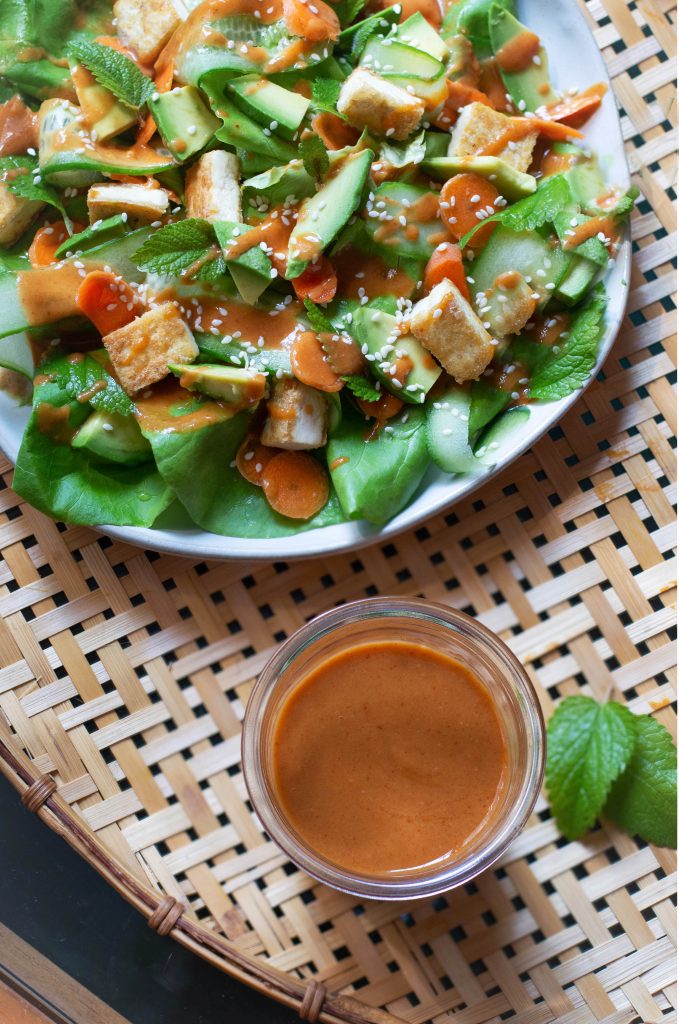 We do not serve wimpy salads in our house. This one is no exception. Totally vegetarian with one quick substitution on the dressing to make it vegan, your first thought is not "this is good for me," its more like "um…is there enough for seconds?!" Healthy does not mean boring!!
Spicy peanut dressing, crispy tofu, crunchy veggies, and buttery avocado pack a punch in this dish. It is sooo tasty! On to the recipe…
Crispy Tofu Salad with Spicy Peanut Dressing
Ingredients:
1 pack of extra firm tofu
2 tablespoons cornstarch
2 tablespoons sesame oil for frying
1 tablespoon low sodium soy sauce
1 head of butter lettuce
Sliced Persian cucumber
Thinly sliced carrot
1 Hass avocado, sliced
Mint leaves, optional (slice thinner than my food styling for optimal flavor 🙂 )
Sesame seeds for garnish
Spicy Peanut Dressing:
Ingredients:
3 tablespoons creamy peanut butter
2 tablespoons low sodium soy sauce
2 tablespoons Sriracha (use less if you don't like spicy)
1 lime, juiced
2 tablespoons sesame oil
2 tablespoons honey (substitute agave to make vegan)
2 cloves garlic, minced
Make It:
We'll start with two important steps to get that tofu extra crispy. Begin by opening your tofu package and draining and discarding all liquid. Next, place your tofu on a plate. Lay another small plate above the tofu and top with something in your kitchen that has weight (just enough to press down on the tofu: Could be a canister of granola or large cans of sauce, etc.), you want to press the tofu to remove extra moisture. Allow that to sit while you make your dressing (ideally, you want to set it for 30 minutes. Just do this in advance and come back to it).
To make your dressing, in a small container with a lid, mix the ingredients of your salad dressing. Add the lid securely and shake until all contents are thoroughly mixed. Set aside or refrigerate until ready to serve.
Discard the extra moisture from the tofu and dice it on a cutting board. Toss it with the cornstarch to coat all pieces (I do this quickly in a resealable plastic bag).
To fry the tofu, add 2 tablespoons of sesame oil to a medium-large frying pan or wok. Heat the oil for 1-2 minutes before adding the tofu. It should sizzle as it hits the pan. Frying in batches to prevent overcrowding, cook the tofu for about 2 minutes per side until it is crispy and golden brown. Remove to a paper towel-lined plate when done. Once all tofu is done, quickly return to the pan and toss with soy sauce. The tofu is now ready to serve.
To make the salad, chop the bib lettuce and divide amongst your plates. Top with cucumber, carrot, avocado, mint if using, and crispy tofu. Drizzle with spicy peanut dressing and finish with sesame seeds. Enjoy!