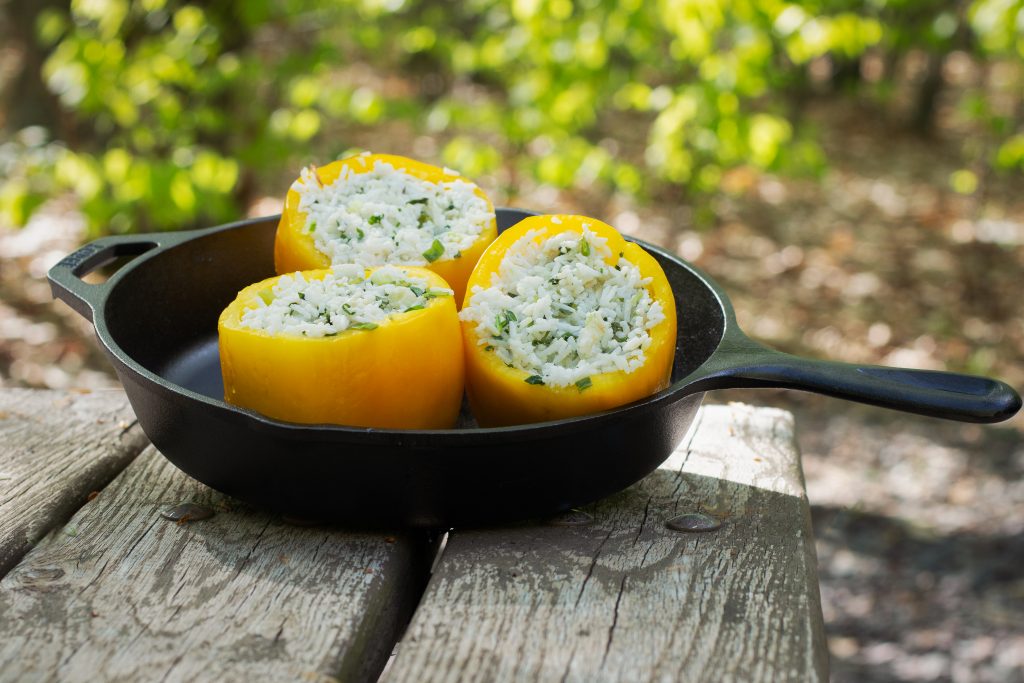 These stuffed peppers make a ridiculously tasty side. The rice is cooked in advance and they store easily packed in foil until you're ready to fire up the portable grill or get a fire going.
The charred, cooked pepper sweetens in the fire to go wonderfully with the coconut rice. We enjoyed these along with fish that my son caught in the lake. They were marvelous.
Stuffed Peppers with Coconut Herb Rice
2 cups basmati rice, rinsed
1 (14.5 oz) can Thai coconut milk (full-fat content)
1 1/2 cups of water
1/2 teaspoon salt
1 cup sliced scallions
1/2 cup diced scallions
2 tablespoons olive oil
6 bell peppers
Make the Coconut Rice (ahead of time):
In a medium-sized stockpot, add the rice, coconut milk, and water (be sure to scrape out all the coconut cream with a spatula-you want to use every drop). Add in the salt and then bring to a low boil. Once slightly boiling, immediately cover and reduce the heat to a simmer. Cook for 15 minutes, sit for 5 then fluff, and allow to cool uncovered.
Mix the cooked rice with herbs and a bit of olive oil.
Slice off the top of all of your bell peppers. Then remove the seeds and clean out the insides. Fill your peppers to the brim with your coconut herb rice. Then wrap in aluminum foil to pack. I then store the foil-wrapped stuffed peppers in a large ziplock bag in my cooler.
Cook It:
These foil-wrapped beauties can cook right on the embers of a mellow fire (be sure to pack tongs, also leather fireplace gloves are handy), on a grill grate on top of a fire pit, or on a grill.
The trick is warming the rice through and roasting your peppers until they soften and slightly char, making them burst with flavor (20-30 minutes). I just peak at the peppers as I'm cooking to see how they are doing. I cooked these in the embers of our fire and rotated them to be sure to cook all sides close to the fire. Then I finished them quickly (3-5 minutes) in a heated cast-iron I had used for the rest of the meal (which toasted the bottom of the peppers perfectly)