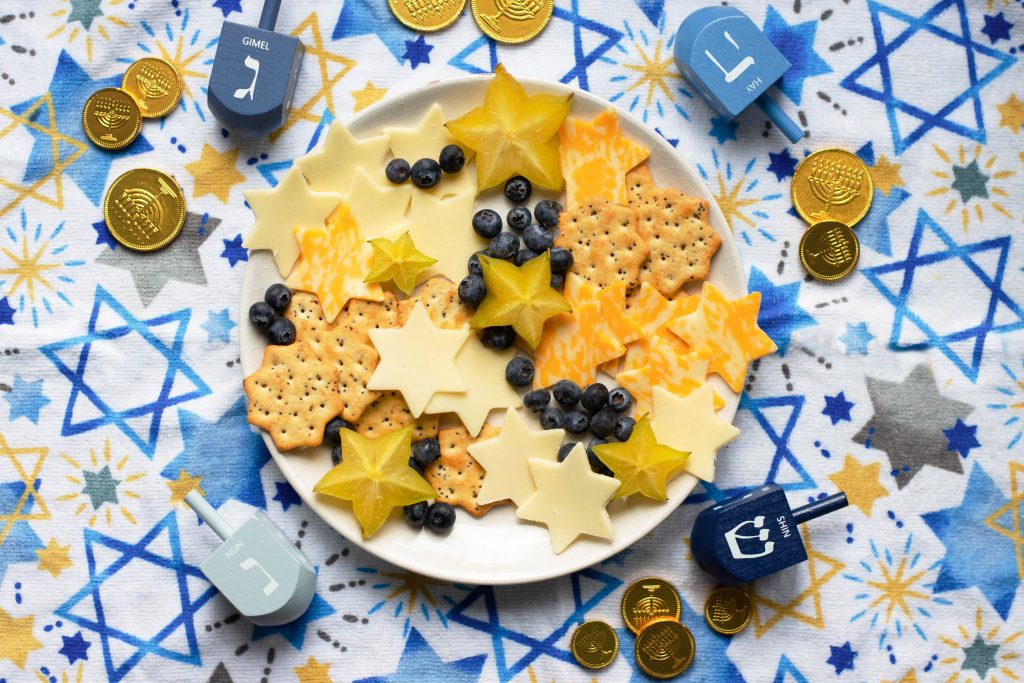 Add some stars to your candlelit nights. Whether you want a special snack, after-dinner treat, or adorable appetizer this one is sure to be a holiday hit! All you need is 5 minutes of time and a star of David cookie cutter to make your kids this irresistible sharing plate.
Starry Night Cheese Plate
Ingredients:
Assorted cheese slices (use different varieties and colors)
Starfruit
Fresh Blueberries
Star-shaped crackers (Sociables are the brand I found)
Gelt
Make It:
Take a star of David shaped cookie cutter and slice your cheeses (I used one about 1.5″ to 2″ in diameter and got 2 stars per slice). Be sure to save those cheese scraps for grilled cheese sandwiches later!
Next, slice your starfruit into 1/2″ slices.
Arrange your platter by laying out your cheeses and crackers. Fill the plate in with fresh blueberries (for that beautiful natural Hanukkah blue) and starfruit slices. Add in chocolate gelt for added magic. Enjoy!