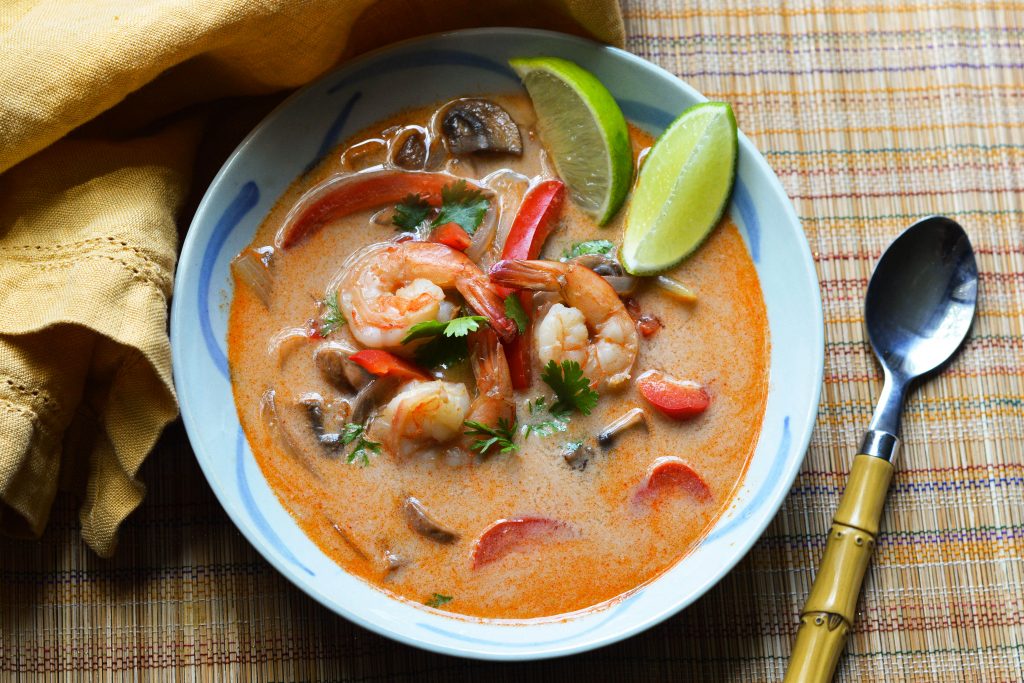 This is a soup my husband and I absolutely adore. It is citrusy, creamy and the broth is so rich that it feels like just the right medicine for whatever ails you. With the taste of lemongrass, galangal and kaffir lime leaves this broth is fresh and unexpected and utterly tantalizing.
Bonus is that it is completely healthy and most of that luscious creamy flavor is all coconut milk. If you're vegan, you can easily substitute vegetable stock and edamame or seared tofu to add protein.
Tom Kha Gai (Thai Coconut Shrimp Soup)
Makes 6 servings
Ingredients:
1 tablespoon sesame oil
1 1/2 cups thinly sliced Vidalia onion
1 cup sliced red pepper
2 cups sliced portobello mushroom
4 1/2 cups shrimp stock (you can substitute chicken stock)
3 tablespoons tom yum paste
1 can whole fat coconut milk
1 lime, juiced
1 lb. shrimp, deveined and peeled (you can leave tails on)
Fresh cilantro for serving
Make It:
In a large stockpot, add sesame oil and bring to medium-high heat. Add in sliced onion and red pepper and saute for about 3 minutes until beginning to color and become flagrant. Add in the sliced mushrooms and cook another 2 minutes. Next, add in shrimp stock (or chicken stock if you are substituting). Bring to a boil and then reduce heat to a simmer.
Stir in the tom yum paste and coconut milk. Whisk if any of your coconut milk is clumping. Next add in lime juice and then add shrimp to the pot. Cook on simmer until shrimp is fully pink and cooked through (about 4 minutes).
Ladle soup into bowls to serve and garnish with fresh cilantro.