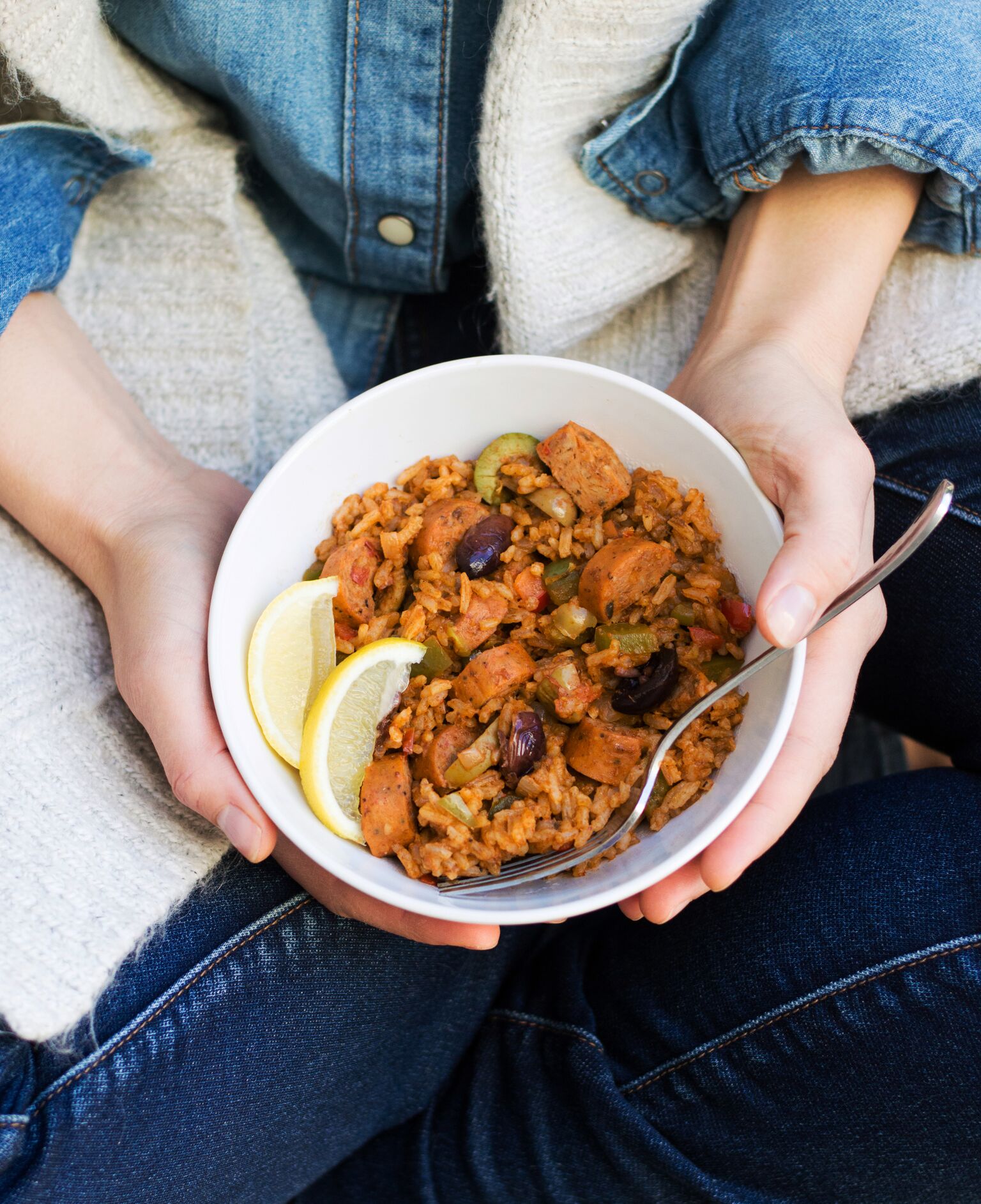 Dirty Rice with Sausage and Marinated Olives
Serves 6-8
I remember coming back from school during a blizzard and my Dad greeting me with a steaming bowl of his dirty rice. On the way home, I remember trudging through the snow and doing a high step because the bus, once it was finally cleared to bring kids home, still couldn't drive onto my street.
I spent my early childhood in Seattle so this blizzard was a big one for us and we don't have the snowplow fleet that I became used to once we moved to Pennsylvania.
It was so dark by the time I finally got home that it felt like it was 8pm. Who knows the real time, I was still just a kid and time had no meaning to me then. I just remember feeling really tired and really hungry and then I wasn't. I remember sitting, finally warm and finally dry eating this simple meal and just loving it.
I hope this dish brings your family the same warmth and comfort!
Ingredients:
2 tablespoons olive oil
1 cup diced yellow onion
1 red pepper, seeded and diced
2 (12 oz packages) chicken sausage*
1 cup tomato sauce
1 teaspoon gumbo file powder (great flavor but if you don't have, double your oregano)
1 teaspoon smoked paprika
1/2 teaspoon garlic powder
1/2 teaspoon dried oregano
4 cups cooked jasmine rice*
1 cup sliced and pitted marinated olives
Sea salt and freshly cracked pepper to taste
1 lemon, juiced
Make It:
Add olive oil to a large dutch oven or large frying pan and heat on high for 1 minute. Add in onion and red pepper (they should sizzle once added). Cook your onion mixture for about 2 minutes, slightly longer if you did a larger dice. Look for the onions to begin to soften and turn translucent. Next add in the chicken sausage and cook an additional two minutes, stirring to warm the sausage on all surfaces.
Turn the heat down to medium-high and add in the tomato sauce, gumbo file (if using), smoked paprika, garlic powder and oregano. Stir until all the spices are evenly dispersed then add in the rice and olives. Season to taste with sea salt and freshly cracked pepper and finish with the lemon juice. Serve warm.
*Note:
You can substitute your favorite flavored sausage. If you are using raw meat, just be sure to allow extra time to cook fully. Shrimp is also a wonderful option.
You can also use your favorite rice for this dish. Yellow rice and white rice would be easy substitutions.