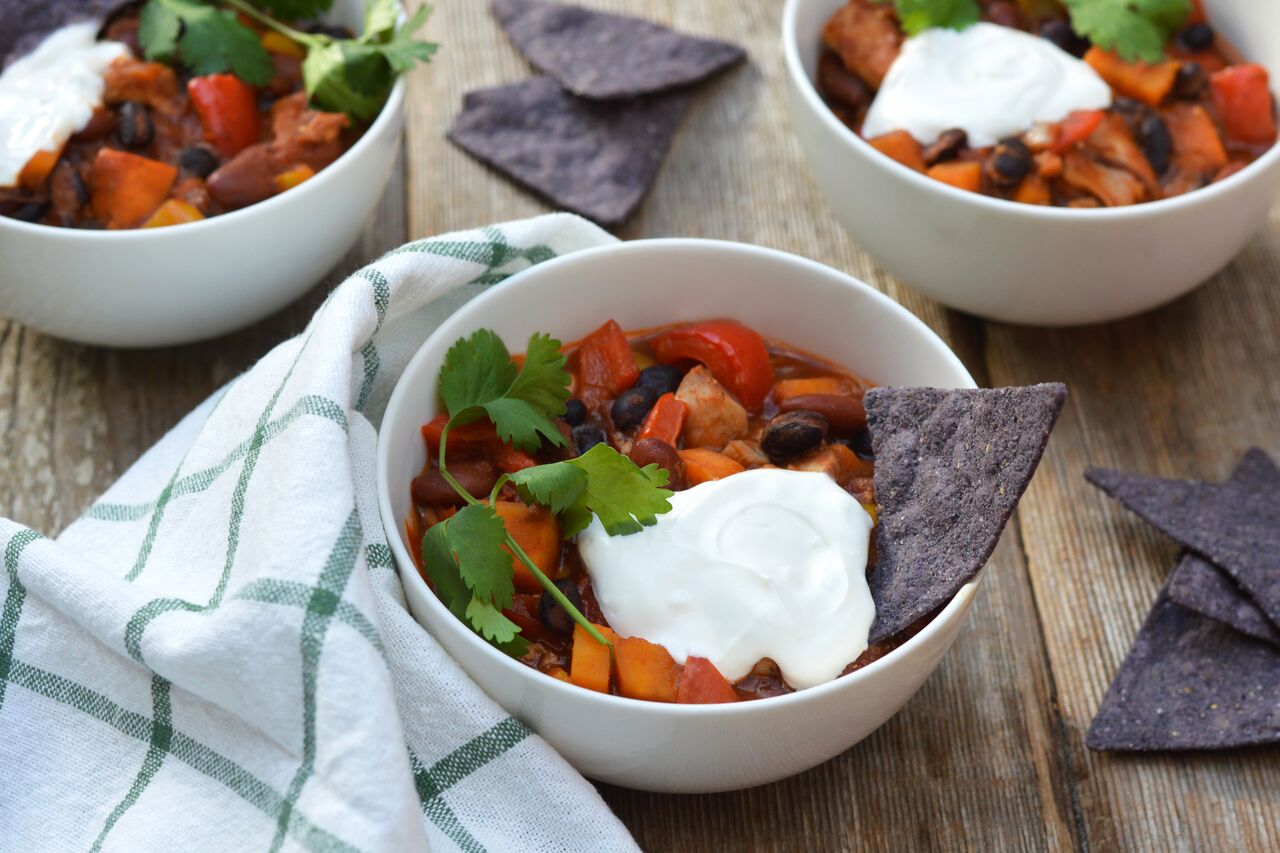 Adobo Chicken and Sweet Potato Chili
Everyone needs a good chili recipe to add to the rotation. This one is unique for its rich, smokey base and the added nutrition of the sweet potatoes. Once you allow your kids to add their favorite toppings, you will have an effortless meal to suit the whole family.
Ingredients:
3 tablespoons olive oil, divided
1 lb. boneless, skinless chicken thighs, diced
Sea salt and freshly cracked pepper
1 medium yellow onion, diced
1 medium sweet potato, peeled and diced small*
1 yellow bell pepper, seeded and diced
1 red bell pepper, seeded and diced
1 tablespoon ground cumin
1 teaspoon garlic powder
2 tablespoons adobo sauce (from a can of chipotle chiles)
2 cups of tomato sauce
2 cups of green salsa
1 (15 oz.) can kidney beans, rinsed and drained
1 (15 oz.) can black beans, rinsed and drained
Make It:
In a large pot or Dutch oven, heat 2 tablespoons of oil for 1 minute and then add chicken. Sear on all sides until fully cooked and season with salt and pepper. Remove to a bowl.
Next, add the remaining olive oil, onions, sweet potato and peppers and cook on medium-high heat for 5 minutes. Stir the onion mixture as it is cooking once or twice to avoid scorching. Add the cumin, garlic powder, adobo, tomato sauce and green salsa and bring to low boil (you want the mixture just boiling with small bubbles not at a rapid boil-I start at medium and reduce to medium-low only if the chili is boiling too rapidly). Return the chicken to the pot and cover and cook for 25 minutes (test the sweet potatoes- when they are soft you are ready to add your beans). Add beans and cook 5 minutes more. Season to taste with salt and pepper.
Finish with your favorite toppings. My family loves sour cream, cilantro, avocado and corn chips for crunch.
*Note: if you don't dice small the sweet potato will need longer to cook.