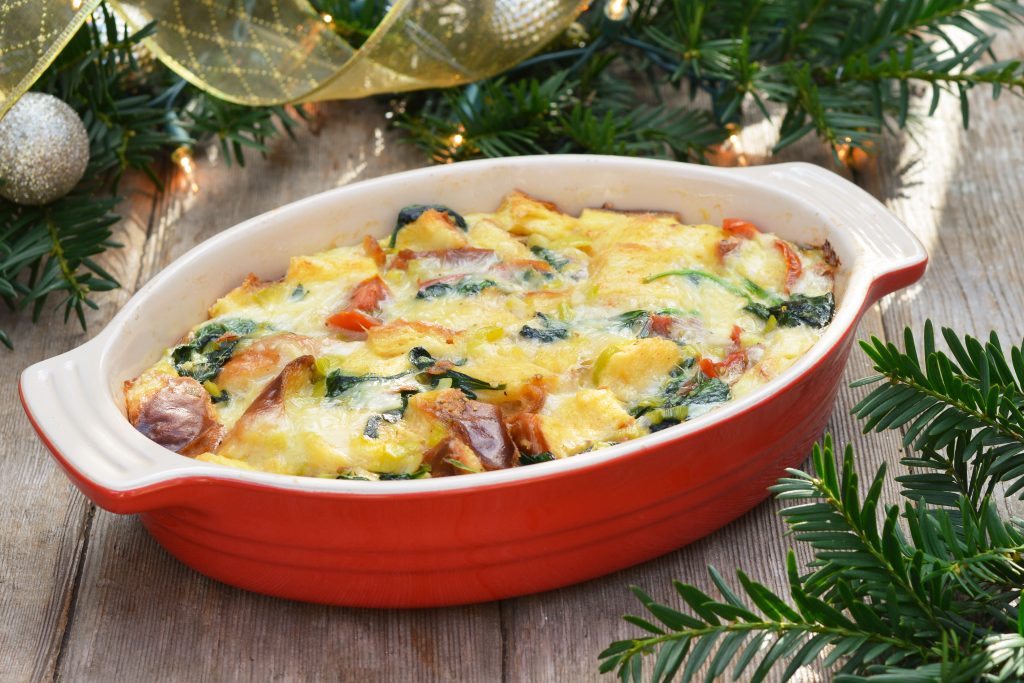 This strata dish is just perfect for a holiday morning. You can assemble it all the night before and bake it as family wakes up in the morning. It is deliciously savory, cheesy, and extremely flavorful. It is also incredibly easy to adapt to your families preferences. The base recipe is milk, bread and eggs. If you're someone who likes to adapt recipes, this is a great one for experimentation!
Spinach, Cherry Tomato and Leek Strata
4-6 Servings
Ingredients:
2 tablespoons butter
1 leek, washed rinsed and diced
2 cloves garlic, minced
2 cups fresh baby spinach leaves
Sea salt and freshly cracked pepper
1 cup quartered cherry tomatoes
5 cups diced challah
9 eggs
1 cup of whole milk
2 cups of shredded cheese (cheddar, Jarlsberg and Havarti all work well)
Make It:
Grease a large casserole dish with butter.
Next, in a large frying pan, add butter and turn heat to medium-high. Sauté leek until tender, about 3-4 minutes. Add in the garlic and cook another minute. Next add in the spinach and stir until wilted, about 2 minutes. Season with salt and pepper. Add the cherry tomatoes and challah and mix. Set aside from heat.
Next, in a medium bowl, whisk the eggs and milk. Season with salt and pepper and then mix in the cheese.
To assemble, add the bread and leek mixture to the casserole dish. Top with the egg mixture. I use my hands to stir it around slightly to ensure all the bread is coated (you can also do by folding with a spatula. I think hands are easier).
Cover with plastic wrap and refrigerate overnight.
When ready to serve, preheat the oven to 375F. Remove the plastic wrap and bake strata 25-40 minutes until browned and set (the divergence on the cooking time depends on how long your strata is outside the refrigerator before you bake. If it goes from the refrigerator straight to the stove, allow for extra cooking time.)