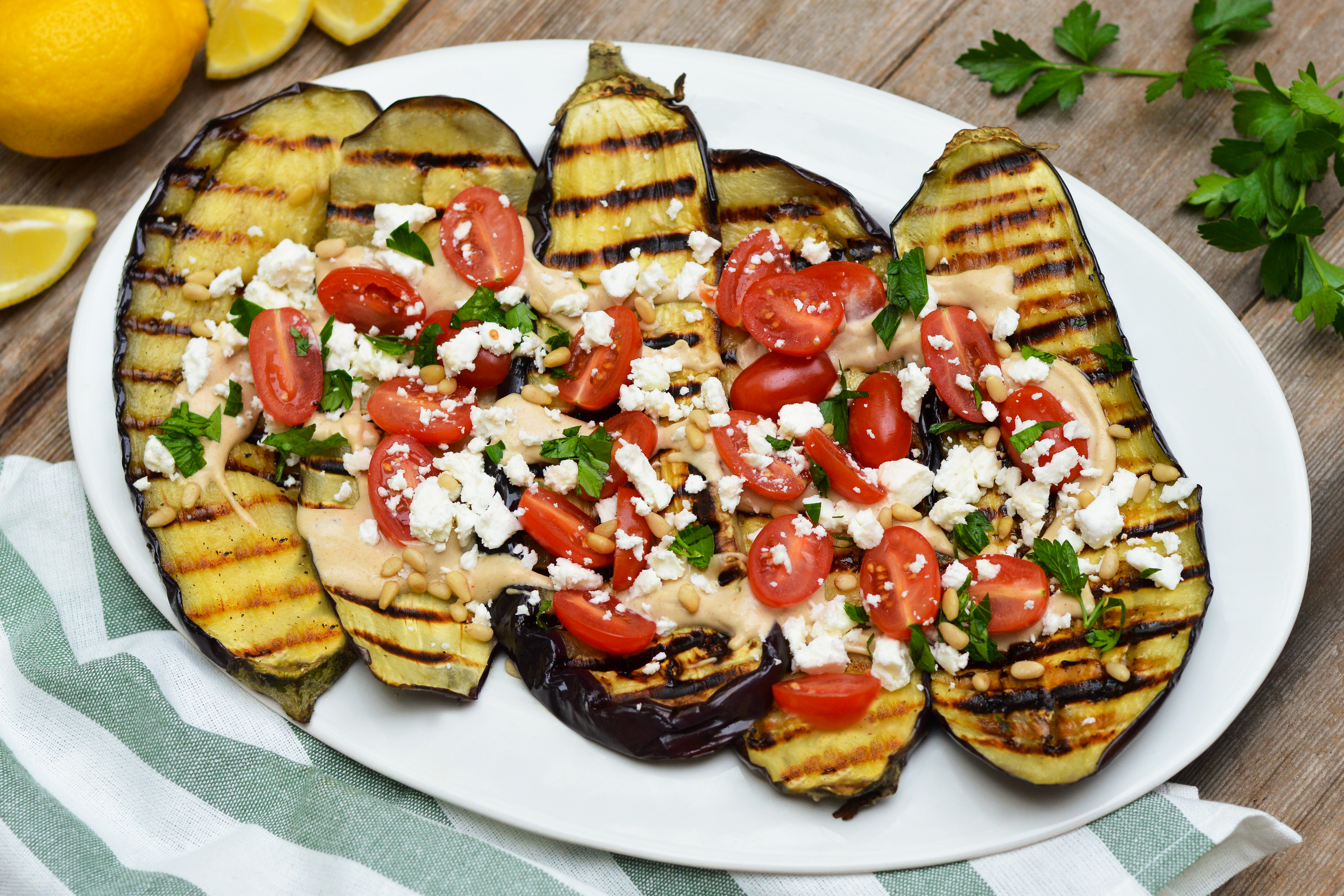 This grilled eggplant is perfect for family meals enjoyed al fresco. Sometimes you want your vegetables to ascend to new heights and this recipe is not only filling- its full of flavor! Who said veggies had to stand at the sidelines? This dish is made to stand out.
Grilled Eggplant with Tahini, Tomato and Feta
Serves 4
Ingredients:
2 large eggplants, sliced in 1/2 inch lengthwise slices (remove the end layers of mostly skin)
Sea salt
Extra Virgin Olive Oil
Tahini Sauce (recipe below)
1 cup halved grape tomatoes
1/2 cup crumbled Feta
1/4 cup chopped fresh parsley
1/4 cup pine nuts
Make the Eggplant:
Lay out your eggplant slices on two baking sheets and generously season with sea salt. Allow to sit for at least 1/2 an hour or up to overnight. This step removes the bitterness and makes the eggplant ever so lovely on the grill. After the eggplant has rested, preheat your grill to high.
Brush your eggplant slices generously with extra virgin olive oil and season with salt and pepper. Grill the eggplant about 5 minutes per side, brushing with oil again before you flip.
As your eggplant is grilling, make your tahini sauce.
Tahini Sauce
Ingredients:
2 tablespoons well mixed tahini
1 tablespoon fresh lemon juice
2 tablespoons cold water
1/4 teaspoon cumin
1/4 teaspoon garlic powder
Pinch of smoked paprika
Sea salt to taste
Make the Tahini Sauce:
Combine all your ingredients in a small bowl and whisk until the consistency is smooth. Season to taste with sea salt.
Complete the Meal:
To finish, divide your finished eggplant between two serving platters. Drizzle generously with your tahini sauce and then top with tomato, feta and parsley. Finish with a sprinkle of pine nuts and serve immediately.