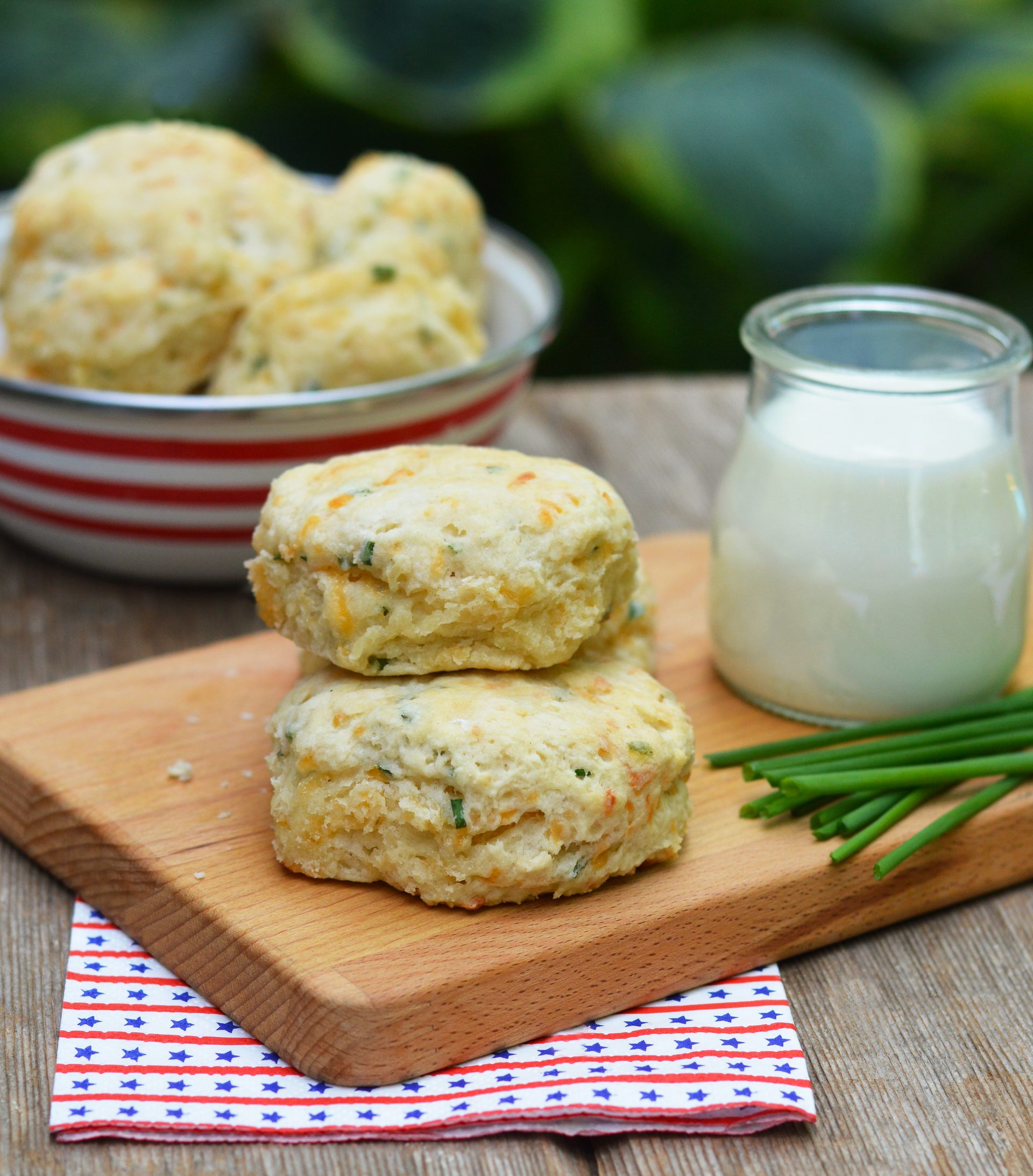 These cheesy, savory biscuits make the ideal side for fried chicken. They are flaky, buttery and absolutely delicious. This recipe is a snap to make and is so kid-friendly, your children will ask for it on repeat.
Buttermilk Cheddar & Chive Biscuits
Ingredients:
2 cups self rising flour
1 teaspoon baking powder
1/4 cup salted butter (taken directly from the refrigerator)
2/3 cup buttermilk
2 tablespoons chopped fresh chives
1/2 cup grated cheddar cheese
Make It:
Preheat your oven to 425F. In a large bowl, mix flour with baking powder. Grate your chilled butter on the largest side of box grater into the bowl. Mix together the flour with the butter until it resembles the texture of sand- a couple small lumps are fine.
Next, make a well in the center of the mixture and add your buttermilk, chives and cheese. Mix until just combined.
Flour your tabletop or counter and arrange your dough into a long rectangle. Fold your dough (like a letter you're fitting into a business envelope) in thirds. Press it again to a rough rectangle and repeat your fold. Flatten and fold your dough in thirds for a third time (all this folding creates the amazing buttery flakes so don't skip this step!)
Roll out your dough to be 1/2 thick and then cut out it into 3 inch circular biscuits using a biscuit cutter or circular cookie cutter (you can also use a cup). Re-roll to use any leftover scraps until your dough is used up.
Lay a piece of parchment paper over a baking sheet and arrange your biscuits close together to help them rise higher. Bake for 10-13 minutes until the bottoms are golden brown and the biscuits are cooked through.