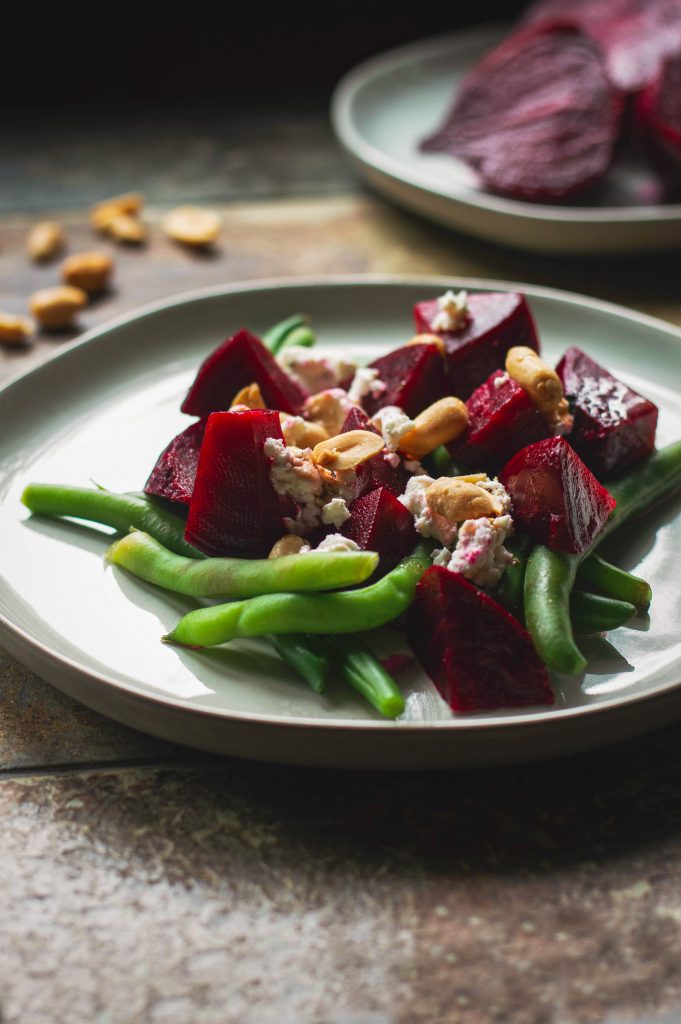 Perfect for a beautiful starting course, this roasted beet and green bean salad is packed full of nutrition and absolutely beautiful to look at. This salad is vibrant, fresh, and flavorful. You can make the beets and green beans in advance just simply warm them before serving so that the goat cheese melts slightly to make the flavors pop. You can also use any store-bought dressing if you don't feel like making your own.
Roasted Beet and Green Bean Salad
Serves 4
Ingredients:
1 bunch of beets
3 cups of green beans
Dijon mustard
1/4 cup balsamic vinegar
3/4 cup extra virgin olive oil
Sea salt and freshly cracked pepper
8 oz herbed goat cheese
Salted peanuts for garnish
Make It:
Preheat the oven to 400F. Remove the greens from your beets and soak in water to remove any grit. These are great to saute and add to dishes like roast vegetable tarts or simply to serve by themselves as a side.
Next, scrub your beets to clean and then rub with olive oil and wrap individually in tin foil. Place your beet bundles on a baking sheet and roast in the oven for about an hour. Since beets vary greatly in size, you'll want to check on them as they are roasting. Small beets will cook faster and very large beets may take a couple more minutes.
To make the green beans, bring a large pot of salted water to a boil. Drop-in your cleaned green beans and cook for a fast 3-4 minutes until bright green in color and just tender but still with a nice crunch. Strain and move the beans into ice water to stop the cooking and preserve that great color.
To make your vinaigrette, add 1 heaping tablespoon of dijon to a small jar with a lid. Add balsamic vinegar and extra virgin olive oil. Shake until well mixed and season to taste with salt and pepper.
You'll want to rewarm the beets and green beans just before serving, especially if you made these in advance. To plate, add a handful of warmed green beans to a plate and top with chopped roasted beets. Divide your goat cheese mixture among your 4 salads. Then top with your balsamic vinaigrette. Finish by sprinkling some salted peanuts on top.