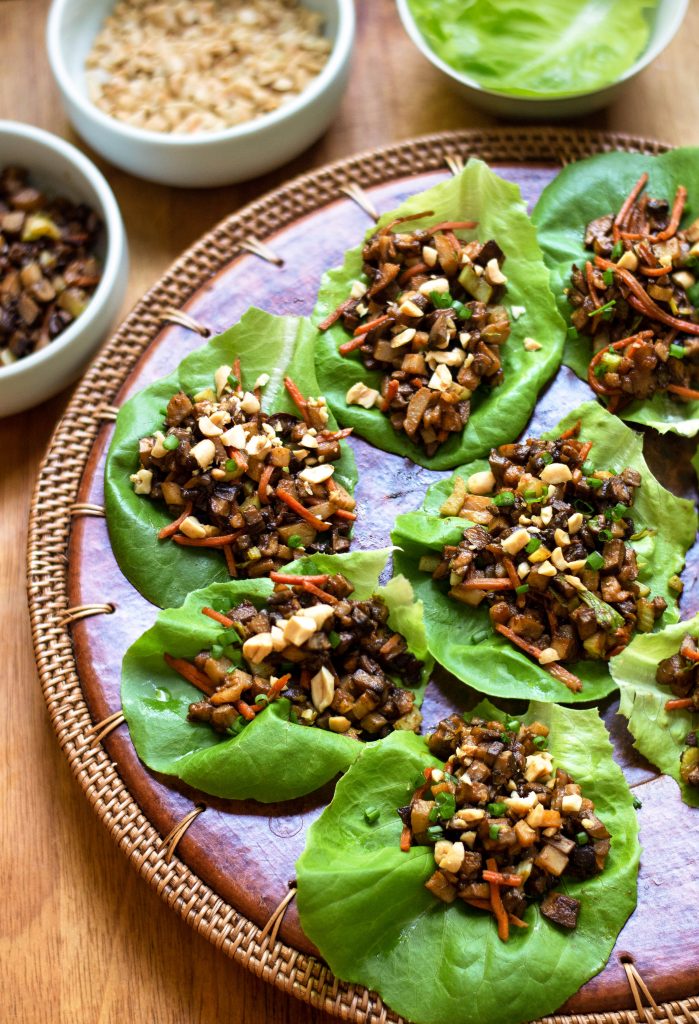 This is a ridiculously tasty and filling vegan meal. You've probably seen these lettuce cups before filled with either finely chopped chicken or ground meat. Here you still get that wonderful umami flavor but without the meat. Peanuts and peanut butter add some protein and the lettuce cups keep it very low-carb. That's a huge win for anyone trying to be healthy but not wanting to compromise on flavor.
Mushroom Lettuce Cups
Serves 3-4
Ingredients:
1 head butter lettuce
Sesame oil for cooking
2 (8 oz. containers) of baby bella mushrooms, diced
1/2 cup matchstick carrot
1/2 cup finely diced celery
1 (8 oz. can) sliced water chestnuts, diced
2 tablespoons low sodium soy sauce
1 tablespoon Sriracha, optional
1 tablespoon peanut butter (you can substitute seed butter)
Sliced scallions for garnish
1/2 cup chopped peanuts for garnish, optional
Make It:
It's important to prep your ingredients in advance since this is a fast cook. Start by rinsing your leaves of butter lettuce and placing them on a paper towel-lined baking sheet. You can do this in advance and store in the refrigerator until ready to serve.
Next, add 2 tablespoons of sesame oil to a wok or large frying pan. Heat on high for 1-2 minutes then add in half of your diced mushrooms. You want to be sure not to overcrowd so that you fry your mushrooms. If you overcrowd them you'll end up steaming them and lose a lot of the great texture. Add sesame oil as needed and cook about 3-4 minutes per side. If they are browning too quickly, reduce your heat to medium-high. Transfer fully browned mushrooms to a paper towel-lined plate and repeat with your second batch.
After you've cooked all the mushrooms and transferred to your plate, add in your carrots, celery and water chestnuts. Add oil as needed, just drizzle every time your pan is dry. Cook until the carrots have just softened. You still want these ingredients to have a nice crunch to them so you'll only cook a couple of minutes (about 3-4 minutes). Once cooked, add back in your mushrooms and reduce the heat to low.
Add in soy sauce, Sriracha, and peanut butter. Mix until all ingredients are coated.
To plate, spoon your mushroom mixture into your prepared lettuce cups. You want to give a nice heaping spoonful but not too much to overflow the leaf. Make it easy to pick them up. You can also serve in a bowl surrounded by lettuce leaves if you're serving family-style.
Finish with chopped peanuts, scallions, and extra Sriracha if you like it spicy!