This vegan soup is really, really yummy. It is protein packed, creamy, with great texture and actually kid friendly. That's about a 1000 percent win when it comes to our family. Bonus is that it is an under 30 minute meal that dresses up fancy but is nothing short of beginner-level easy. It is also incredible cost-effective and ridiculously beautiful to serve. Need I say more…really, do you need more? It is flavorful, makes an incredible lunch, is healthy and can be made 100% from ingredients you'd purchase from Trader Joe's. I rest my case.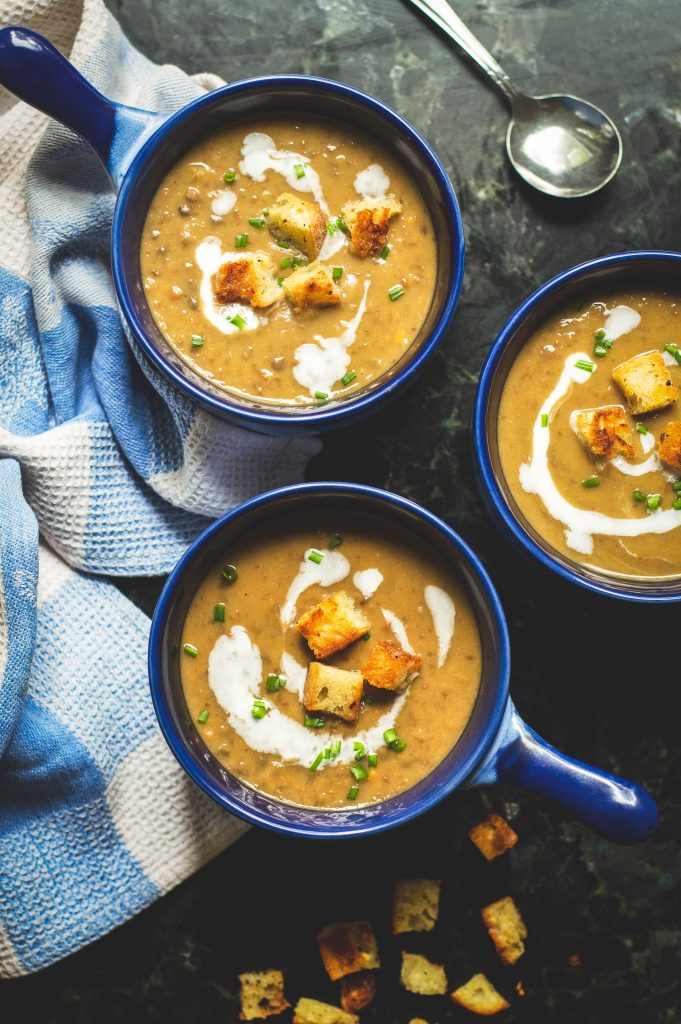 Lentil Soup with Garlic Croutons
Serves 4
Ingredients:
2 tablespoons extra virgin olive oil
2 small leeks, cleaned and sliced fine (2 cups), be sure to remove all grit
2 cups peeled and diced sweet potato, 2 small sweet potatoes
4 cups vegetable broth
1 lb. steamed lentils (you can also substitute canned lentils, just drain first)
Sea salt to taste
Full fat coconut milk for garnish
Chopped fresh scallions for garnish
Garlic Croutons
2 tablespoons olive oil
2 cloves minced garlic
2 cups diced sourdough
Dried thyme to season
Make It:
Preheat the oven to 375F and line a baking sheet with aluminum foil.
In a large stockpot, add your olive oil and leeks and cook for 3-4 minutes on medium-high until the leeks are becoming translucent. Add in the sweet potato and vegetable broth and bring to a low boil. Reduce the heat to low and cook for about 20 minutes until the sweet potato is fork tender.
Meanwhile, mix the olive oil and garlic for the croutons in a small bowl. Toss the olive garlic mixture over the sourdough on the aluminum foil lined baking sheet until every cube is coated. Season with a touch of dried thyme. Bake for 10-15 minutes until golden brown and crunchy. Allow to cool.
Once your soup has cooked and your sweet potato is tender enough to be sliced with a fork, puree with an emersion blender and season to taste with sea salt.
Ladle your lentil soup into bowls. Shake a can of coconut milk and drizzle a spoonful on top of each bowl of soup. Top with scallions and garlic croutons. Serve warm.