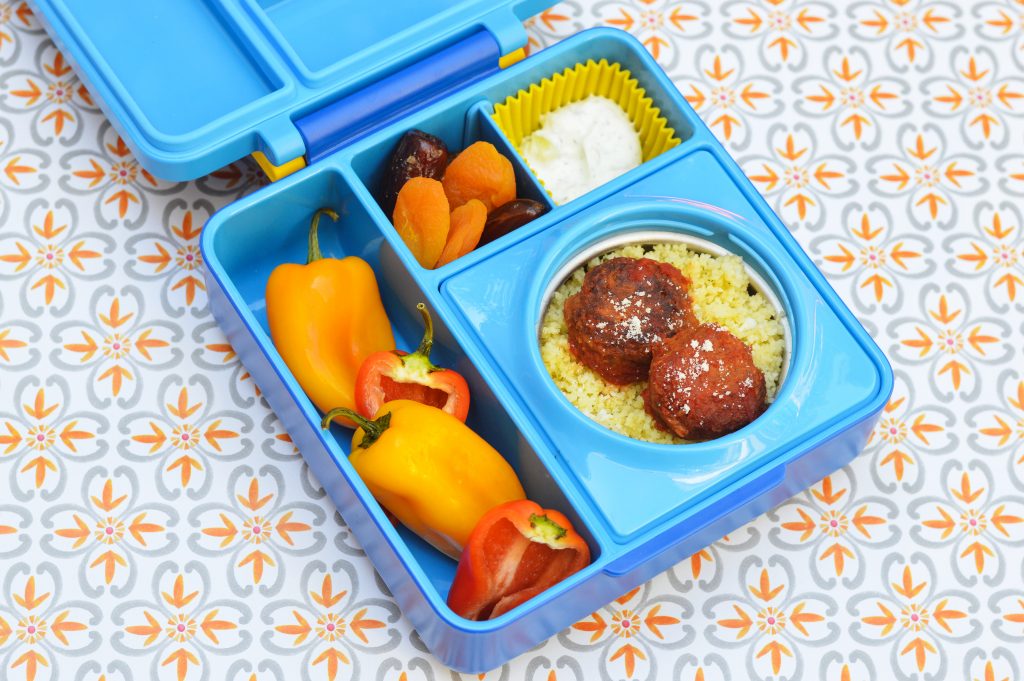 My family loves meatballs but I've been trying to add more vegetarian meals to our roster. I'd been wanting to create lentil meatballs for a long time but like everything else as a mom, it took me a little while to get around to :). These were incredibly filling, delicious and fun to eat. It was a great way of adapting a crowd-pleaser to a meat-free alternative. Hope you enjoy as much as we did!
Vegetarian Meatball Bento:
2-3 Lentil Meatballs stored in a hot bento or thermos (recipe below)
1/4 cup couscous
Mix of dried fruits (I used apricots and pitted dates you can also substitute raisins)
Several mini sweet peppers (you can serve whole, slice or halve and seed)
Several spoonfuls of Tzatziki Dip (you can substitute your child's favorite dressing)
Lentil Meatballs
Yield: about 15 meatballs
Ingredients:
1 (15.5 oz can) cooked lentils, drained
3 tablespoons olive oil, divided
1 piece of Italian bread, toasted and crumbled
3 tablespoons grated parmesan cheese
1 egg
1 ½ teaspoons dried Italian seasoning
½ teaspoon garlic powder
Sea salt and freshly cracked pepper
1 ½ cups tomato sauce
Make It:
Puree your lentils with 1 tablespoon olive oil in a small food processor or blender (I use a magic bullet). Next, add your lentil puree, crumbled bread, parmesan, egg, Italian seasoning and garlic powder to a bowl. Season with salt and pepper then mix well. Form into balls, about the size of a walnut.
In a large frying pan, add the remaining olive oil and bring to medium-high heat. Sear the meatballs until browned on all sides (about 8-10 minutes). Once meatballs are browned on all sides, add in tomato sauce and simmer until the lentil meatballs are cooked through.