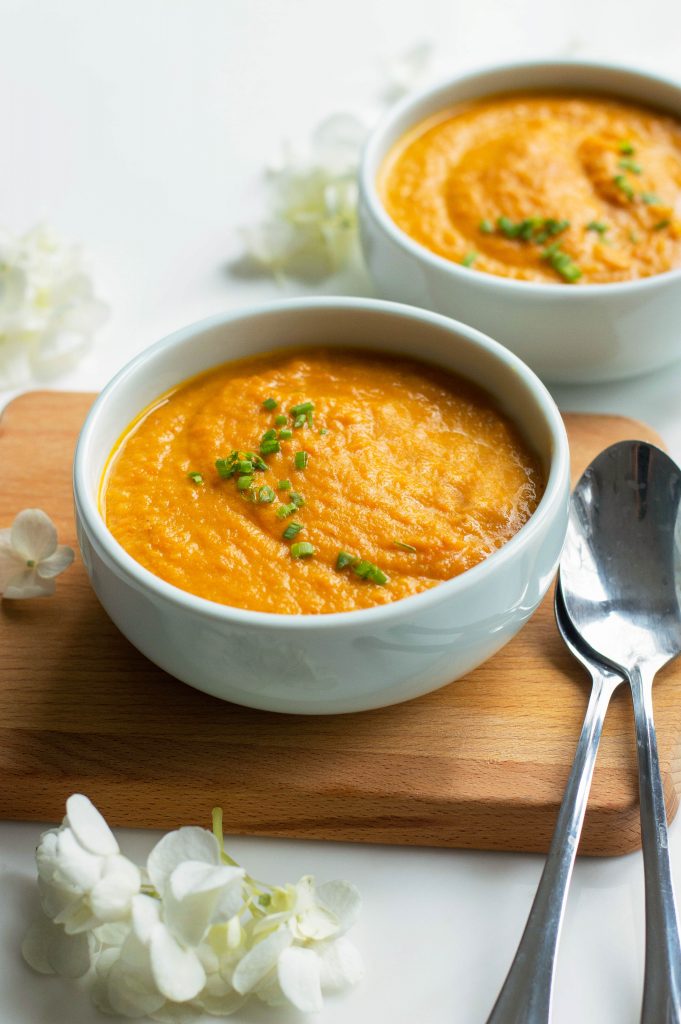 Springtime calls for fresh veggie soups. This carrot soup is even richer from the flavor that comes from roasting the carrots. Leek and a touch of cumin add the other essential flavors. Finished with coconut milk, this healthful soup tastes rich and decadent- as good as it is for you!
Roasted Carrot Soup
Ingredients:
1 leek, washed thoroughly, roughly diced
2 small Idaho potatoes, peeled and roughly diced
8 large carrots, peeled and cut into equal size pieces (about 2 inches long by 1/2 inch wide)
Olive oil
Sea salt and freshly cracked pepper to taste
2 cartons of vegetable stock
1 can whole fat coconut milk
2 cloves garlic, whole
1/2 teaspoon cumin
Fresh chives, chopped for garnish
Make It:
Preheat the oven to 400F. Add leek, potatoes, and carrots to 2 baking sheets and coat with olive oil, and season with salt. Roast for 17 minutes. Remove the leek and any small carrots that are already cooked and set them aside on a plate. Then return the carrots and potatoes to the oven to continue cooking. Cook until fork tender (about another 17 minutes) then remove.
Puree carrots, leek, and potato in a large blender until smooth adding stock as necessary (note: If you are not a big fan of cleanup you can puree with stock in your stockpot with an emersion blender. I just find my blender gets a smoother texture).
Add the remainder of the stock, coconut milk (ensuring you add all the coconut cream at the top of the can…its the best part!), garlic, and cumin. Heat on medium until warmed through. Whisk as you're heating (if your soup is too thick to your liking, you can add a little more stock or a bit of water. I added 1 extra cup of water to mine to get the consistency I wanted).
Once the soup is heated to your liking, serve warm and top with some fresh chives as garnish. Enjoy!