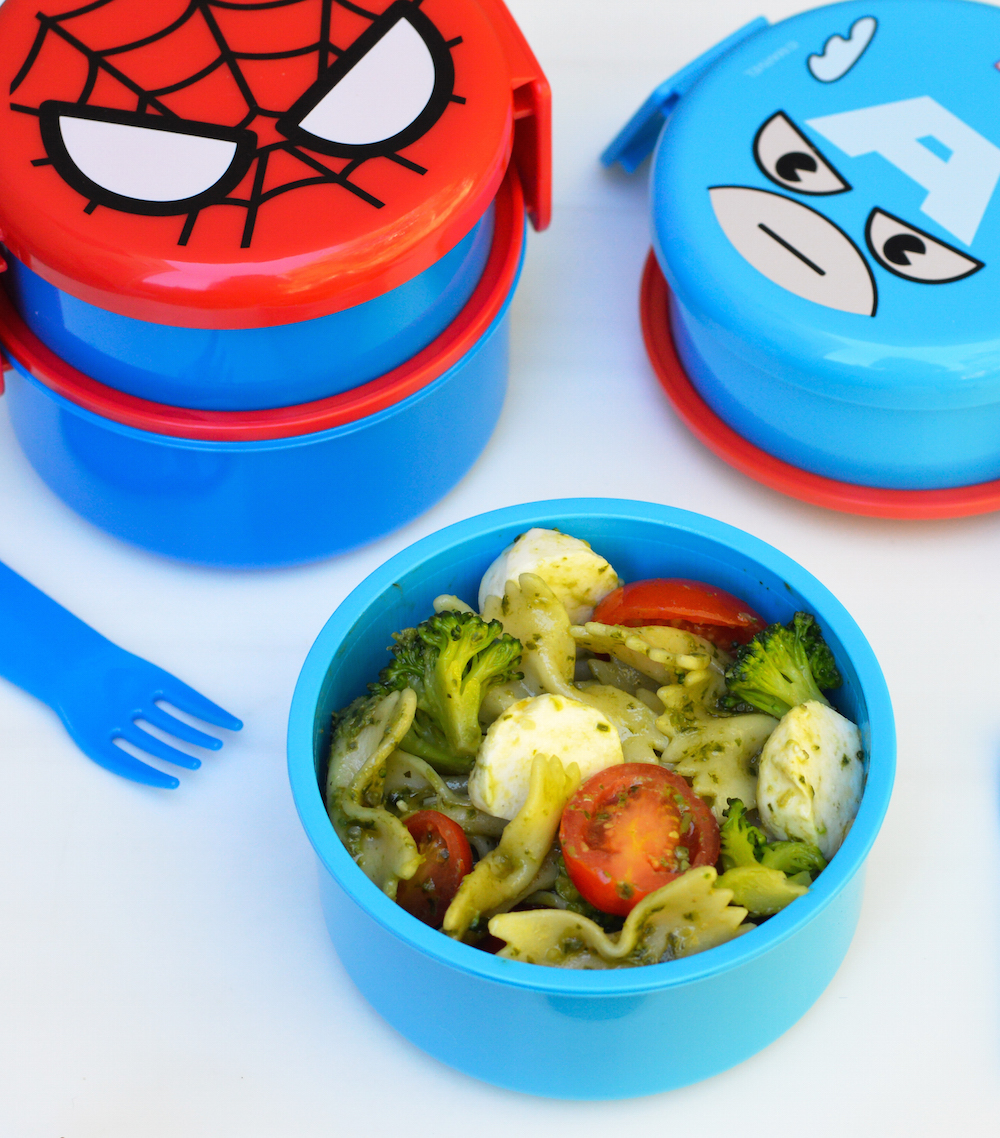 Caprese Pasta Salad
Serves 8
This pasta salad flies together and makes for fantastic finger food for toddlers. It also serves well for a grab and go option for adults.
The added broccoli can be substituted for steamed green beans, sweet peas or your child's favorite vegetable. If your child does not like to see vegetables, you can add a bit of spinach to your pesto and blend it until it is mixed in before tossing with the rest of the ingredients. Pesto is one flavorful way of getting a little green into the meal.
Ingredients:
1 lb. cooked bow tie pasta (cooked according to package instructions)
1/3 cup pesto
8 oz. "cherry size" mozzarella, sliced in half
1/2 pint grape tomatoes, sliced in half
1 cup steamed broccoli florets
Make It:
In a large bowl, mix bow tie pasta, pesto, mozzarella, grape tomatoes and broccoli. Toss until all ingredients are coated in pesto. Refrigerate until ready to serve.
Gear Up:
If you are interested in this cute Spiderman and Captain America lunchbox keep on reading. This is not a paid promotion, I just loved this set.
You can get the set from: Bento & Co.
A bit more about the company:
Thomas Bertrand, originally from France, and his wife Erico, a Kyoto native, started the Bento&co online shop from a tiny house in Kyoto in November 2008. Starting small with help from friends and a stock of 30,000 yen (about $300) in their living room, the Bento&co story began.
In March 2012, Bento&co moved their operations to the heart of downtown Kyoto and with it they opened a beautiful brick and mortar flagship boutique.
Over time the company has grown to become Japan's premier specialty bento box retailer, the mission of staying true to a love of quality Japanese products and great customer service has remained the same since the founding of Bento&co.