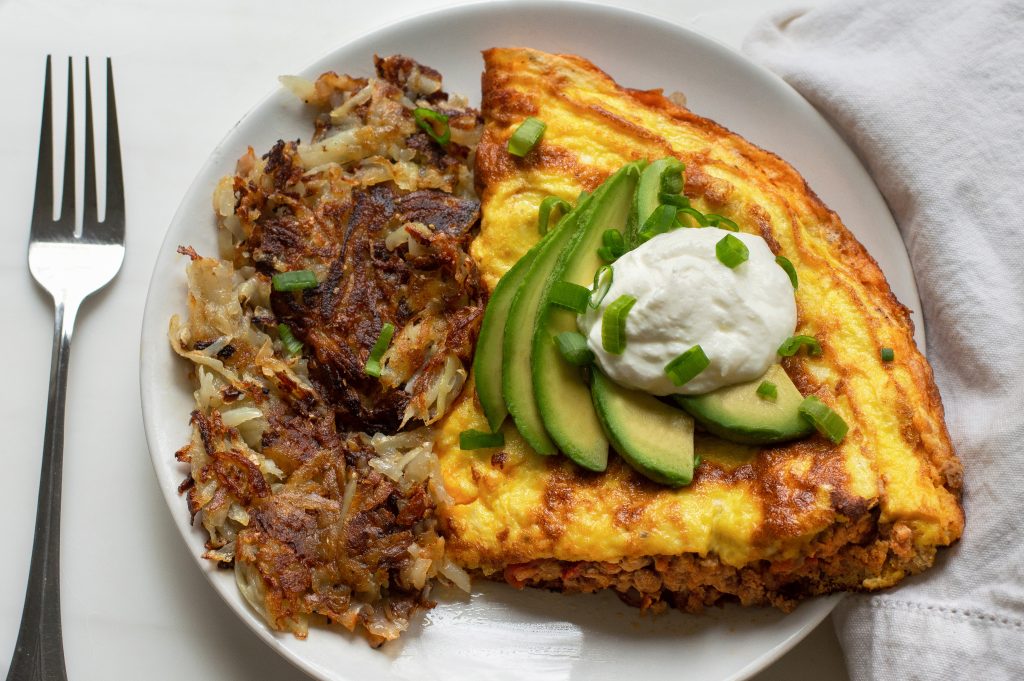 Taco Omelet with Crispy Grated Hashbrowns
When I was a little kid my Grandpa used to take me to the diner for brunch as a special treat. I have never been a huge fan of sweet breakfasts like pancakes, french toast, or waffles so I always opted for savory. For me, it was a burger or a loaded omelet. This one is a glammed-up version of that omelet and still makes me smile to this day.
If you love hearty brunches and the crispiest potatoes, you'll be sure to enjoy this one.
Hashbrowns
Cook time 10-15 minutes
Ingredients:
6 tablespoons extra virgin olive oil, divided
4 medium-sized golden potatoes, grated
Sea salt and freshly cracked pepper
Make It:
Preheat your oven to 250F.
The secret to crispy hashbrowns is golden potatoes, good oil, and enough of it. To start this recipe, I add 3 tablespoons of olive oil to a pan. Next, I add in the grated potatoes (before I turn on the heat). I push them into one even layer with a spatula. I then salt and pepper the top.
Next, turn the heat to high and cook for about 3 minutes (starting to crisp up). Reduce the heat to medium-high and cook another 2-3 minutes (the edges should be turning golden brown.
Add 3 tablespoons drizzled over the top of the potatoes then flip the hashbrowns. I don't get too precious about flipping, the potatoes are super starchy so can be smoothed back together when cooking the 2nd side.
To flip you can divide the hashbrowns in half and flip a half at a time or flip on to a plate (in this case, add the remaining oil to the pan before inverting the plate to return the hashbrowns to the pan.)
Cook on the second side for 5-7 minutes until crispy. Move the finished potatoes into the oven while you make your omelette. If your pan isn't ovensafe, you can transfer the potatoes to a baking sheet.
Taco Omelette
Ingredients:
1 cup taco meat (or cook 1/4 lb ground meat of choice with cumin, smoked paprika, Mexican oregano, and garlic powder)
3 tablespoons hot sauce of choice (you can substitute taco sauce or salsa for less heat)
2 scallions, sliced
5 eggs
2 tablespoons milk (any fat content works)
Sea salt and freshly cracked pepper
2 tablespoons olive oil
1/2 cup grated cheddar cheese
Sour cream for garnish
Sliced Hass avocado for garnish
Make It:
If you are making your taco meat day-of, be sure to cook fully and season with your favorite spices (mine are listed above). Then mix in the scallions and extra hot sauce/taco sauce/salsa and make sure to warm through. If you are repurposing leftover taco meat, simply rewarm the taco meat with half of the scallions as well as the extra hot sauce/taco sauce/salsa until warmed through.
Next, in a medium-sized mixing bowl, whisk the eggs and milk. Season with salt and pepper.
Add olive oil to a medium-sized frying pan and heat for 1 minute on medium-high. Add in the eggs to form an even layer. Then add in the cheese to cover half of the egg mixture. Add the warmed meat on top of the cheese. Cook for about 3-4 minutes on medium-high. The eggs should be mostly cooked so that it is easy to fold over the omelet. Fold over the only egg side over the loaded side to make your omelet (just one quick flip). Cover after folding omelet and cook an additional 3-4 minutes until cooked through.
Top the finished omelet with sour cream, sliced avocado, and scallion. Serve alongside crispy grated hashbrowns.