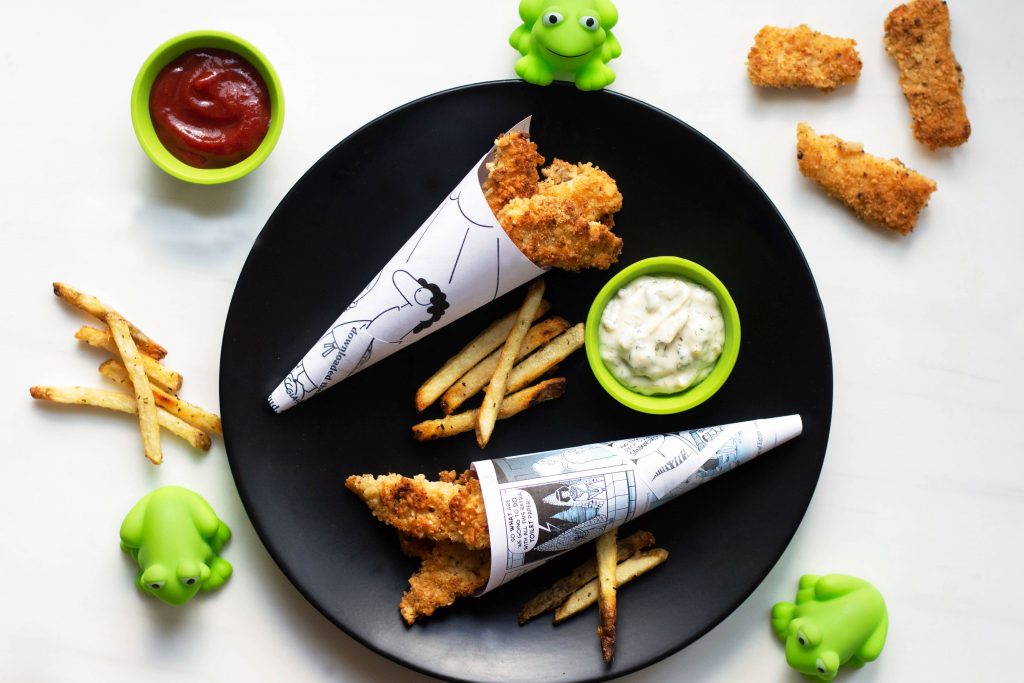 This is a super satisfying Passover meal that can be made in advance, frozen, and reheated as needed (for all of you who love to meal prep)! If your kids don't love fish sticks, use the same recipe with chicken tenders then add some homemade ranch dip. The matzo adds the ideal crunch and the seasoning makes these finger foods super duper tasty.
Matzo Crusted Fish Sticks with Homemade Tartar Sauce
Fish Sticks Ingredients:
3 fillets of flounder, cut into 1 inch by 1/2 inch batons
2 1/2 pieces of matzo, ground finely (you can substitute 1 cup matzo meal), You can also substitute Panko if its not Passover
2 large eggs
1/2 teaspoon garlic powder
1/2 teaspoon onion powder
1/2 teaspoon sea salt
1/4 teaspoon dried parsley
Oil for frying
Kosher salt for sprinkling
Homemade Tartar Sauce
Ingredients:
1 tablespoon chopped fresh dill
1 tablespoon minced cornichon
1/2 teaspoon garlic powder
1/2 cup mayonnaise
1 tablespoon lemon juice
Sea salt and freshly cracked pepper to taste
1/2 teaspoon dijon, optional (omit if you don't eat kitniyot)

Make It:
In a medium bowl add matzo meal. In another medium bowl whisk eggs. Begin by dipping the fish sticks into your egg mixture and then into your matzo meal to coat all over. Lay the finished fish sticks on a baking sheet. Repeat until all fish sticks are coated.
To fry, add about an inch of oil to a frying pan and heat to high. Drop-in a little piece of matzo to check the oil, when it bubbles all around the oil is ready to fry. Fry your fish sticks in batches to prevent overcrowding. Adjust your oil as you're cooking to lower the temperature with subsequent batches. Fry the fish sticks for about 1-2 minutes per side. My fish sticks were not very thick, about 1/4″ thick. If you are doing a true baton with a thicker stick, you will need to fry longer. Lay the finished fish sticks on a paper-towel-lined baking sheet and season with kosher salt to finish.
In a small bowl, mix together the ingredients of your tartar sauce. Serve your fish sticks with homemade tartar. Any extra fish sticks will freeze wonderfully for later.