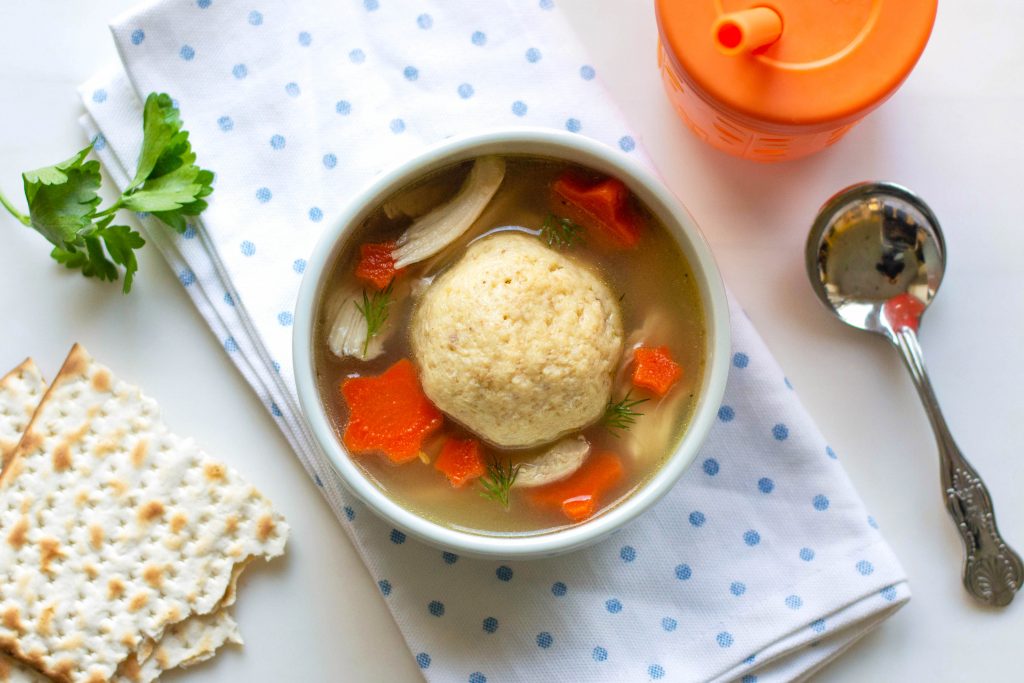 Rich chicken broth makes this soup the perfect comfort to nourish those you love. Fun star-shaped carrots and a big, fluffy matzo ball make it all the more kid-friendly. So whether you're digging in during your seder or indulging in the days that follow, be sure to make a big batch. This is the soup to cure worries, to cuddle up with, and to remember that you are oh so loved.
Matzah Ball Soup
Broth Ingredients:
1 chicken carcass (If you don't freeze and save yours, do! But for now, you can take the bones from a store-bought rotisserie chicken, discard the skin. You can also use the meat from the rotisserie instead of cooking the chicken tenders later)
3 cartons of chicken stock
1/2 cup diced carrot
1 cup diced Vidalia onion
1 stalk dill
Sea salt to taste

Soup:
1 cup of matzo meal
4 large eggs
1/4 cup vegetable oil
1/4 cup seltzer
1/2 teaspoon kosher salt
2 large carrots, peeled and sliced 1/2″ thick
1 lb. chicken tenders
Make It:
In a large stockpot, add your broth ingredients. Bring to a boil and then reduce to a simmer. Simmer for about 2 hours until extremely rich broth results. Strain your broth into another large pot and discard the bones, carrots, onion, and dill (I compost these). Season to taste with salt. Your broth can be made in advance and frozen until you're ready to use it.
Next, in a large bowl, mix your matzo meal with your eggs, vegetable oil, seltzer, and salt. Mix to combine and refrigerate for at least 1/2 an hour. After that time, bring a large pot of water to a boil. Roll the matzo meal mixture into balls about 1 inch in diameter and drop them into the boiling water. When you've dropped your last matzo ball in, reduce the heat to low and cover your pot to cook for 30 minutes.
Return your enriched chicken stock to the stovetop and heat to a boil. Cut your 1/2″ carrot slices into fun shapes (optional, but definitely adds a bit of fun for the kids). I chose stars and kept the circles with the star cut out as well. Boil the carrots for about 5 minutes then reduce the heat to a simmer and add in the chicken tenders. Simmer the chicken tenders until cooked through and no pink remains. Then remove, allow to cool, and shred. Return shredded chicken to the pot.
Add your matzo balls to the soup to warm when you are ready to serve. If you are making in advance, store the matzo balls separately and only add them to the soup to warm through when you're ready to eat. Enjoy!