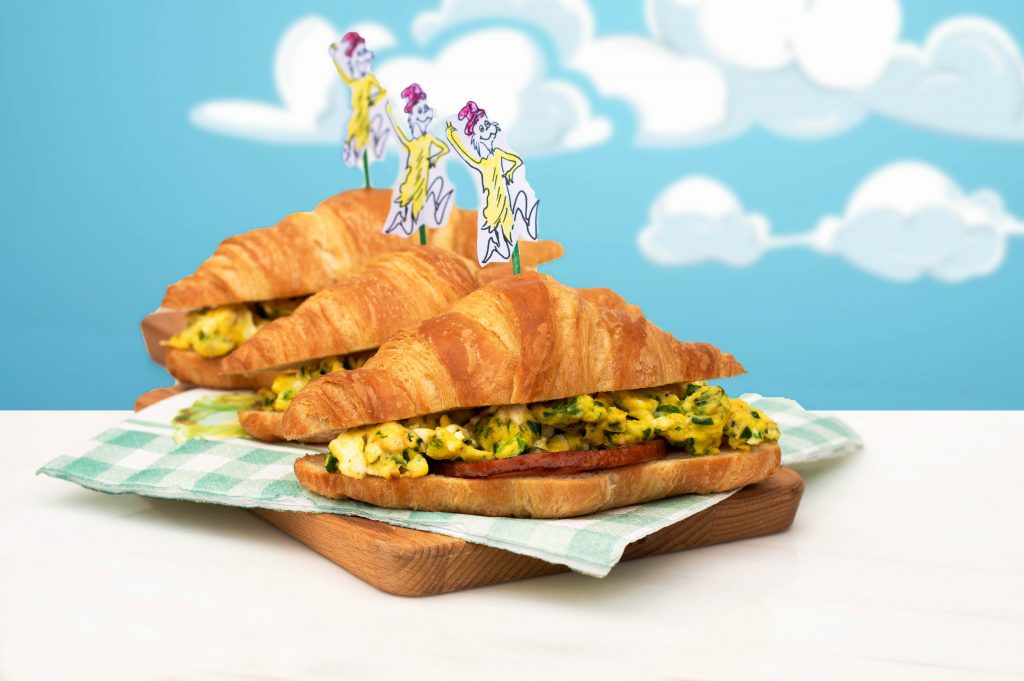 You don't need green dye for green eggs and ham. Green is an abundant color in nature that you can add to your food healthfully in a myriad of ways. Think tasty greens or glorious green sauces (pesto, gremolata, chimichurri, hot sauce)! Here, I added just a bit of cut-up baby spinach to fill this breakfast sandwich with nutrition as well as whimsy.
Green Eggs and Ham-wich
Ingredients:
3 croissants
Butter
1/4 cup chopped spinach
1/4 cup shredded mozzarella
3 large eggs
3 pieces of Candian bacon
Make It:
Preheat your oven to 350F. Slice your croissants in half lengthwise, butter (optional) and add to the oven to rewarm.
In a small bowl, whip your spinach with mozzarella and eggs. Add a little butter to a frying pan and cook your scrambled eggs. Set aside then add a little more butter and fry your Canadian bacon about 1-2 minutes per side to rewarm.
To assemble, add a slice of Canadian bacon to each croissant and divide your scrambled eggs evenly between your 3 croissants. Top each sandwich with the croissant top and add a fun toothpick to each.
A printout for the DIY toothpicks is below. All you need is crayons to color in, tape, and a toothpick for a fun craft to make your ham-wich all the merrier.
Dr. Seuss Toothpick Template:
CLICK HERE TO DOWNLOAD