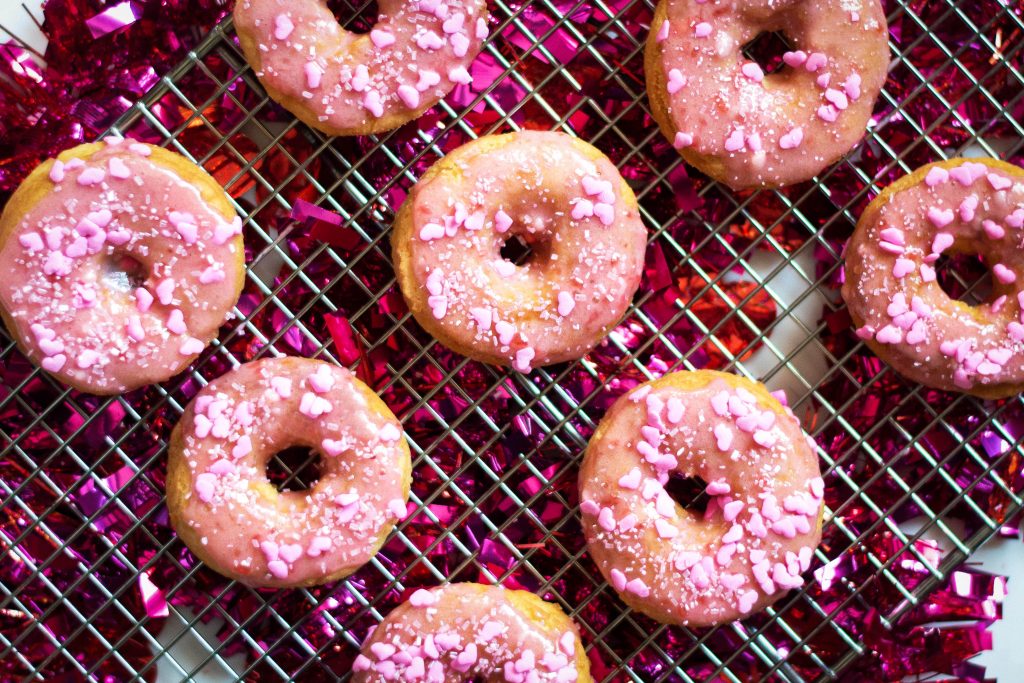 Transform your kitchen into a donut shop this Valentine's Day! These simple mini donuts are perfect to shape and decorate with the kids. Best yet is the recipe is so much easier than you'd expect.
I included a recipe for a basic dough OR an option to save a little time and use store-bought biscuit dough. It's up to you whether the fun is in the making or mainly the enjoying after!
Pink Confetti Donuts
Makes 9 donuts plus about 2 donut holes
Donut Ingredients (you can also save time and use Pillsbury biscuit dough):
2 cups all-purpose flour
2 teaspoons baking powder
1/4 cup granulated sugar
1/4 teaspoon salt
1/2 teaspoon cinnamon
1/2 cup whole milk
1/4 cup butter, melted
1 large egg
Canola/vegetable/safflower oil for frying
Glaze Ingredients:
2 tablespoons jam
2 tablespoons whipped cream cheese
3 tablespoons powdered sugar
2 teaspoons whole milk
Pink sprinkles of choice
Make It:
In a medium bowl, mix flour, baking powder, sugar, salt, and cinnamon. In another medium bowl whisk together milk, melted butter, and egg. Slowly add your dry ingredients in to your wet, mixing as you go until you form a soft dough. Add a little extra flour if the dough is too sticky.
Gently fold the dough together with a spatula to combine. Do not overmix, just fold until all the flour has been incorporated into the dough.
Dust a counter with a little extra flour and roll out the dough to be an inch thick. Using two biscuit cutters, begin shaping your donuts (I used a 2 1/2 inch circle for the outer round and an inch biscuit cutter to cut out the hole). Roll out the extra scraps as needed until you have used up all the dough. When you have dough left, but not enough for a full donut, roll into larger donut holes (I had enough for two).
Add 1 inch of oil to a large stockpot and bring to frying temperature, 360F. I like to check with a little scrap of dough…it should bubble all around and turn golden brown in 1-2 minutes when tested. The oil won't take very long to heat and you'll need to adjust between batches going hotter at first and lowering the temperature slightly with subsequent batches.
Fry your donuts in batches, about 3 at a time for 1-3 minutes per side. Flip and fry on both sides until golden brown throughout. Lay on a drying rack.
As donuts are cooling, mix your glaze ingredients in a medium-sized bowl. Whisk them together until the glaze is smooth.
Once all donuts are fried, spoon the glaze over them and top with sprinkles. Enjoy!
Note:
These donuts are freshest and tastiest the day they are made.