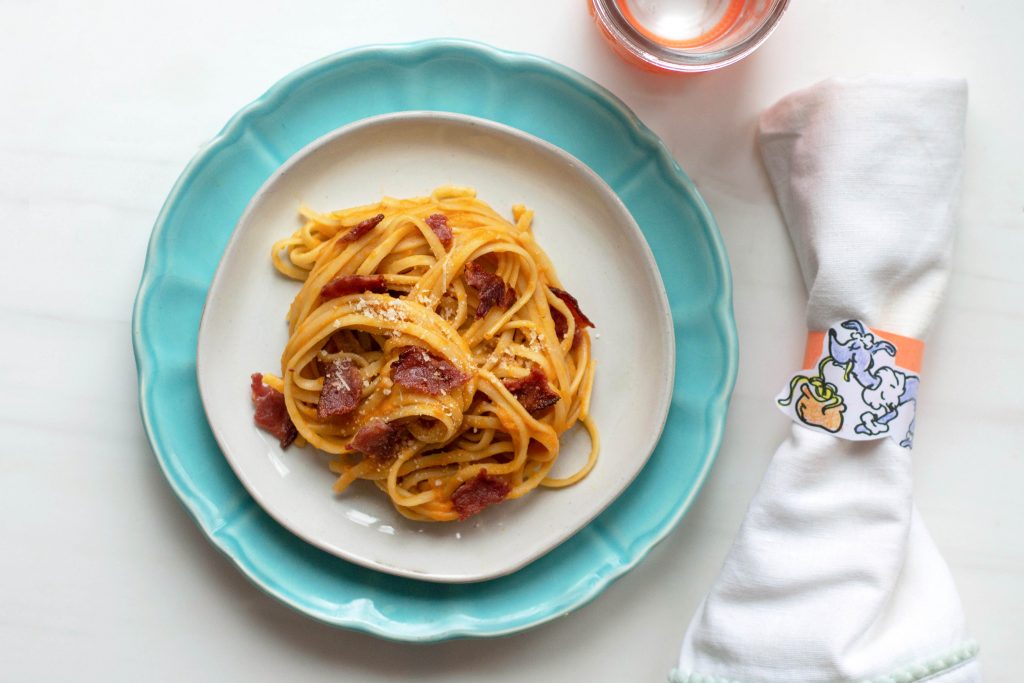 If you love tongue twisters, look no further than Fox in Socks. This book could trip up even the best of parents, especially after long virtual days of work. But watching you make mistakes as you read is half of the fun of this book for kids. The other half can be in indulging in a huge plate of pasta with a silly poodle napkin ring to the side.
You could use any of your favorite pastas to go with this theme but I am really trying to get my kids their servings of fresh fruits and veggies. This butternut squash carbonara has been on my list to try for awhile. In my cookbook, The Ultimate New Mom's Cookbook, I offer a ridiculously tasty Butternut Squash Mac n' Cheese. It is still a family favorite.
For this recipe, the bacon was the first selling point. Both kids are absolute bacon addicts (we do turkey bacon). The second was the golden orange color that looks like an illustration and simply called out to me to fill out this month's theme. I hope you enjoy!
Noodle Eating Poodle
Butternut Squash Carbonara
Ingredients:
1 tablespoon olive oil
4 slices of bacon
1 heaping cup diced Vidalia onion
2 heaping cups peeled, diced butternut squash
1 1/2 cups chicken stock
1 lb. linguine
Parmesan cheese for topping
Make It:
Bring a pot of heavily salted water to a boil.
In a large frying pan, add olive oil and cook your bacon till crispy. Note: we love turkey bacon in our house and it is not as greasy. If you are using high-fat bacon, be sure to use a little less oil. Set bacon aside on a plate. When cool, crumble and reserve for later.
Add onion and butternut squash to the same pan as the bacon was cooked in and saute for 2 minutes. Add in chicken stock and cover the pan. Boil on high for about 10-12 minutes until the squash is soft and ready to puree.
Meanwhile, cook your linguine in your boiling pasta water until al dente. You really don't want to cook past al dente because you will want that texture later. Save 1 cup of your pasta water before straining through a colander.
Once your butternut squash is soft, remove the mixture to a blender and puree with the cup of pasta water until smooth and creamy. Add the butternut squash sauce back to the large pot and toss in the drained linguine, using tongs to coat all the noodles.
Plate the finished pasta and top with crumbled bacon and Parmesan. Serve warm.