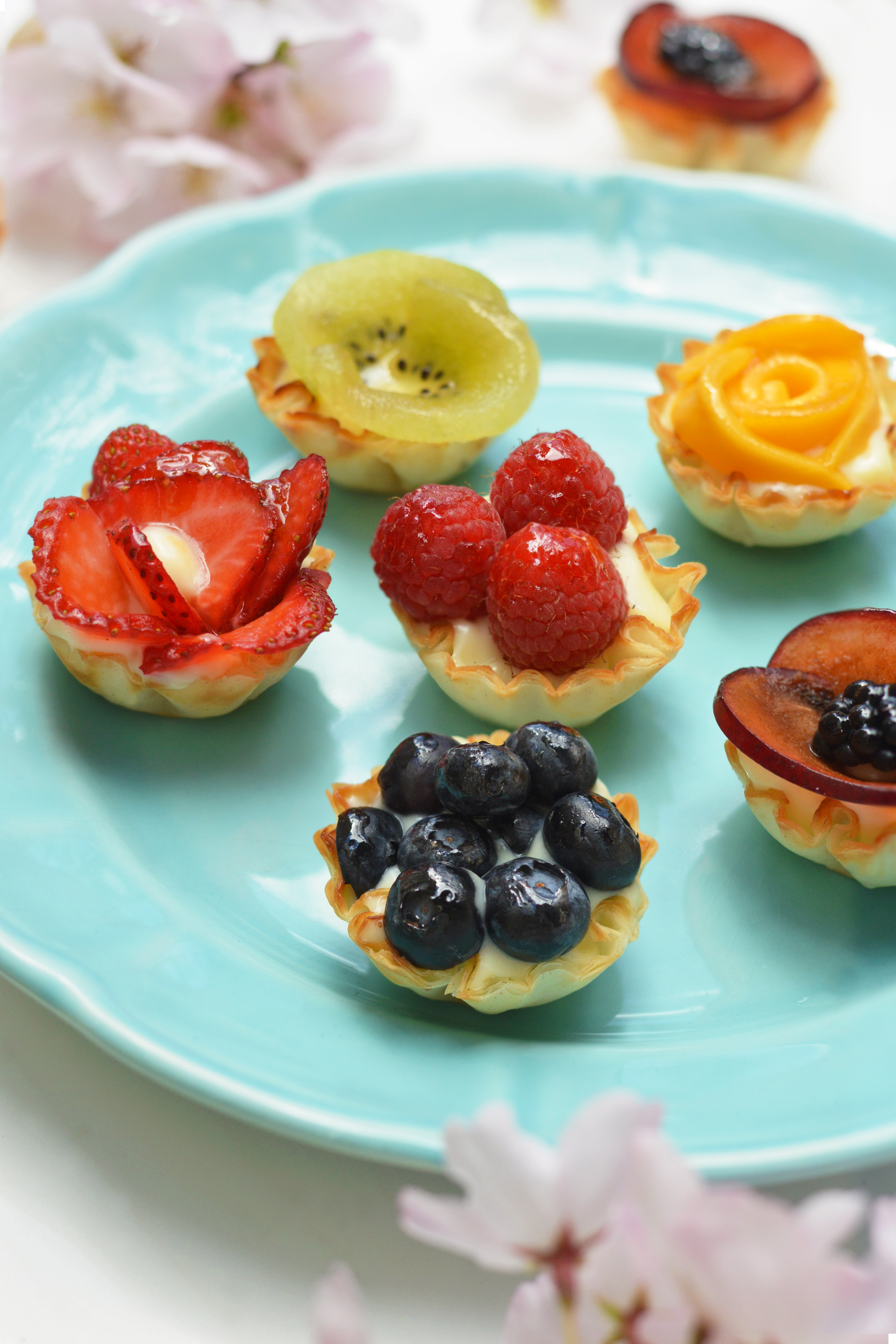 These adorable tarts are beautiful and simple to create, making them the ideal treat for a special occasion. Whether you are planning a birthday, tea, baby shower or simply want something sweet and small these tarts will be sure to please.
With Mother's Day approaching, this is a great recipe to allow the children to join in. Let them dollop the pudding, top with their favorite fruits and brush on the glaze. The recipe is easy enough that kids can participate and the recipe is so delicious that everyone will enjoy the end result.
White Chocolate and Orange Mini Fruit Tarts
Makes 15 mini tarts
Ingredients:
2 ½ cups whole milk, divided
Zest of 1 orange
½ cup raw cane sugar (you can substitute white sugar)
4 tablespoons cornstarch
¼ cup white chocolate pieces
¼ teaspoon salt
1 package phyllo shells
Fresh fruit (sliced strawberry, mango, raspberry, blueberry, blackberry, etc.)
2 tablespoons apricot jelly
Make the White Chocolate and Orange Pudding:
In a medium stock pot, add 2 cups of milk and bring to a boil, whisking as you go. Immediately once it boils, reduce heat to a simmer or you will have a sticky overflow. I keep an eye and stay around the pot as soon as it begins to bubble. Add in the orange zest and cane sugar and whisk to mix.
Next, in a sealable plastic container, mix the remaining ½ cup milk with the cornstarch. Seal the container and shake until fully mixed. Pour the mixture into your stock pot, whisking as you go.
Add in the white chocolate and salt and whisk the mixture until it is your desired thickness. I like a pudding-like consistency but it will thicken a bit more as it chills. Allow the mixture to cool for 5 minutes before transferring to a glass bowl to store in the refrigerator. Top with the bowl with plastic wrap and cool until ready to assemble tarts. If you have the time, I prefer to do this step the night before.
Make the Tarts:
Next, preheat your oven to 350F and bake your phyllo shells for 4 minutes on a baking sheet in the center of the oven. Allow them to cool before assembling tarts. As they are cooling, microwave your apricot jelly for 20 seconds until it liquifies. If you don't have a microwave, you can do on the stovetop in a small stockpot.
To assemble, fill each cooled phyllo shell with a small spoonful of pudding. You will have extra pudding leftover but that is okay because it is delicious served on its own.
Top with the fruit of your choice. Then brush with a little bit of apricot jelly to finish.
Serve immediately or refrigerate until ready to serve. These tarts are best the day they are made since the phyllo shells are thin and you want them to stay crunchy.
Packing Tip:
Save the container the phyllo shells come in to easily pack and preserve these gorgeous tarts for meals on the go!