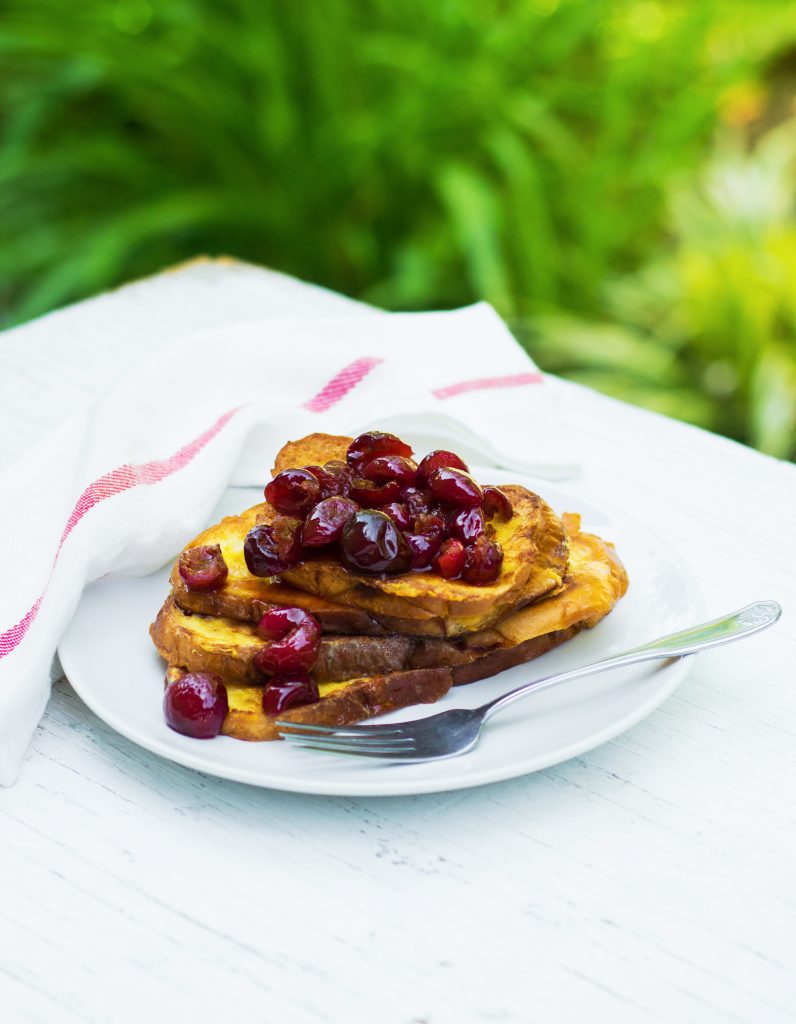 This is such a gorgeous way to start the day. The cherries burst with flavor and make a gorgeous topping for a fluffy, eggy stack of challah french toast.
I first made this after a pretty spectacular cherry harvest. Given the choice, I'll always choose Bing cherries (it's my Pacific Northwest roots). After eating bowl after bowl fresh, I'm usually ready to start recipe development. This compote was the result of that development. I hope you enjoy!
Warm Cherry Compote
Ingredients:
2 cups fresh pitted cherries (you can substitute frozen)
1/3 cup maple syrup
1/2 cup fresh orange juice
1/4 tsp cinnamon
1 tsp vanilla extract
1 tsp cornstarch (optional, I like to get thicker quicker 🙂 )
French Toast
Serves 8
6 eggs
1/2 cup milk
4 tablespoons of salted butter
10-12 slices of challah
Make The Compote:
In a medium-size saucepan, add the cherries, maple syrup, and orange juice. Mix in the cinnamon and vanilla extract. Heat on medium-high until you reach a boil. Remove the cherries with a slotted spoon to a bowl and continue to reduce the liquid on a very low boil.
In a small bowl, mix cornstarch with equal parts water and whisk with a fork. Stir into the compote. Thicken the sauce until it easily coats the back of a wooden spoon (syrup consistency). Then remove from heat and return the cherries to the saucepan.
Make the French Toast:
In a medium bowl, whisk eggs with milk. Dunk your challah slices in the egg-milk mixture.
Add 1 tablespoon of butter to a large frying pan and heat on medium-high. Add your challah in batches. Fry bread until golden brown then flip for the second side. Repeat until all your slices have been fried, adding butter with each batch.
To serve, plate your french toast and top with cherry compote. Enjoy!