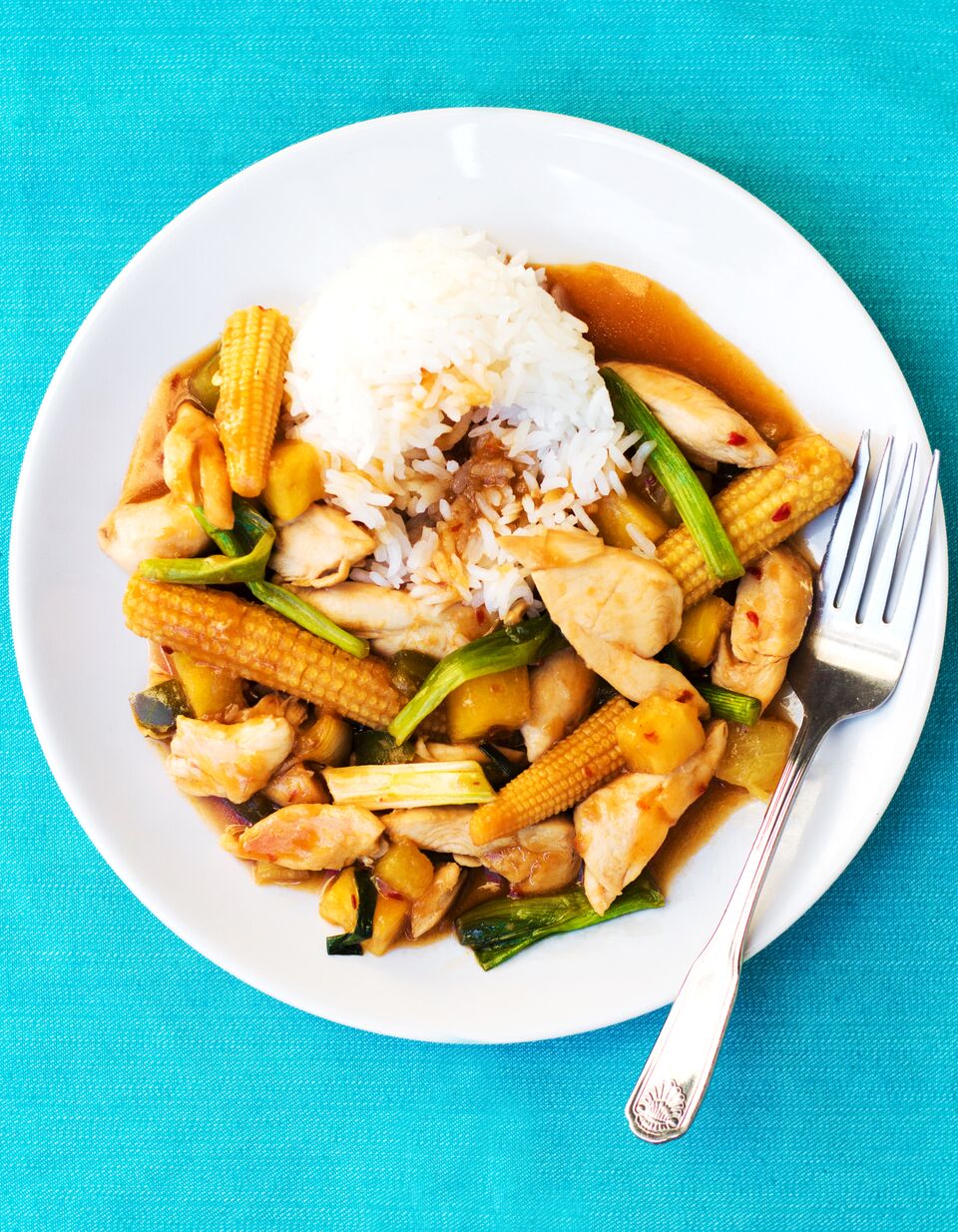 Ginger Pineapple Chicken Stir Fry
4 Servings
The sauce on this stir fry is wickedly tasty- that's why the recipe adds a bit more- so the last morsels of jasmine rice will soak up every drop of flavor.  This stir fry offers wonderful finger foods for little diners from savory pineapple bites to baby corn to tender chicken; making it an easy meal that the whole family will love.
Sauce Ingredients:
1/4 cup gyoza sauce
1 tablespoon honey
1 tablespoon minced ginger
½ teaspoon cornstarch
Make It:
In a medium bowl combine ingredients of the sauce and whisk until thoroughly mixed. Set your sauce to the side of your large frying pan/wok.
Stir Fry Ingredients:
2 tablespoons canola/veg oil
1 ½ lb. chicken breast, cut into thin strips
2 cloves garlic, thinly sliced
1 green pepper, diced small
½ cup small diced sweet onion
1 can baby corn, drained
1 cup diced fresh pineapple
1 bunch scallions, cleaned and sliced into 2 inch pieces
Jasmine rice for serving
Make It:
Set your frying pan on high heat and add your oil. Wait until it is sizzling hot then add your chicken. Cook chicken about 2 minutes until it is mostly white and only a little pink remains. Add in your garlic, peppers and onion and then cook a minute more.
Next stir in your sauce and add your baby corn and pineapple. Bring sauce to a simmering boil and then add in scallion. Cook in lightly bubbling sauce for 4-5 minutes until sauce thickens, onions and peppers soften and chicken is cooked fully. Serve with jasmine rice.